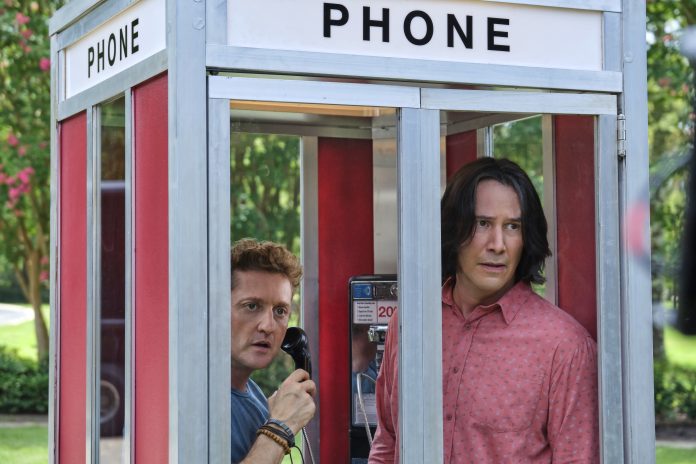 Directed by Dean Parisot and starring Keanu Reeves and Alex Winter, "Bill & Ted Face The Music" is out now in cinemas nationwide.
"Bill & Ted Face The Music" continues to track the time-traveling exploits of William "Bill" S. Preston Esq. and Theodore "Ted" Logan who are yet to fulfill their rock and roll destiny.
The now middle-aged best friends set out on a new adventure when a visitor from the future warns them that only their song can save life as we know it. Along the way, they will be helped by their daughters, a new batch of historical figures, and a few music legends — to seek the song that will set their world right and bring harmony in the universe.
"Bill & Ted Face The Music" also stars Samara Weaving, Brigette Lundy-Paine, Scott Mescudi (Kid Cudi), Kristen Schaal, Anthony Carrigan, Erinn Hayes, Jayma Mays, Jillian Bell, Holland Taylor, Beck Bennett, William Sadler, Hal Landon Jr. and Amy Stoch. "Bill and Ted Face the Music" is directed by Dean Parisot (Galaxy Quest), written by Chris Matheson and Ed Solomon (Bill & Ted's Excellent Adventure) – and produced by Scott Kroopf, Alex Lebovici, and Steve Ponce.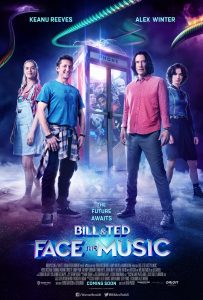 Key to this brave new world of "Bill & Ted Face The Music" is director Dean Parisot. A student of absurdist comedy and an expert in juggling tone, of his 40 credits, the one that most obviously sums up his unique skillset is Galaxy Quest, the sci-fi comedy that's become a cult classic thanks to its seamless blend of the hilarious and the heartfelt.
"There are loads of challenges to the period of time in between these movies," says Parisot. "But I felt like this was also the perfect time. On the one hand, Bill & Ted aren't teenagers anymore. And it's not 1989. Everything, from the film language to the design of the movie to the broadness of it; all of it, to some extent, has changed. So, the challenge was to absolutely hold onto the core of these characters, but also to contemporise it. And what makes it so perfect for now is that it's about remembering what it's like to be a group of people trying to accomplish something, together. Rather than beating each other up all day long."
CLICK BELOW to hear more from my chat with Director Dean Parisot

https://www.nova.ie/wp-content/uploads/2020/09/Bill-Ted-Director-Dean-Parisot.mp3
The bodacious return of the highly anticipated third Bill & Ted movie was annouced last year when Reeves and Winter got together in front of the Hollywood Bowl in LA.
Over 30 guitars from iconic American guitar maker Gibson, Epiphone and Kramer are also featured throughout "Bill & Ted Face The Music", including the epic Wyld Stallyns hero guitars, the classic Gibson SG Special, and the Gibson Flying V.
"Gibson Brands have been a huge part of the Wyld Stallyns story from the very beginning," says Jonathan Leahy, Music Supervisor, Bill & Ted Face the Music. "When Rufus presents Bill & Ted with Steinbergers at the end of 'Excellent Adventure' that's just an iconic movie moment, especially for all the guitar players in the audience. The customized Gibson SG and Flying V that Alex and Keanu play at the end of 'Bogus Journey' were a perfect match for the second film. In 'Bill & Ted Face the Music', we wanted to deliver for the fans and get the gear details right. Gibson came through for us in a big way; you can't make a third Bill & Ted film without Gibson."