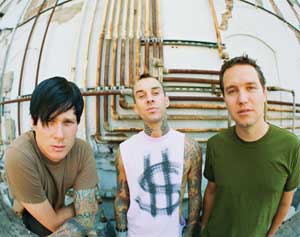 Californian rock band Blink 182 have revealed they are set to start working on a new album in the coming weeks.
Blink 182's frontman-guitarist Tom DeLonge says that the band are planning to release the new material next year, hopefully in the summer.
Back in July, DeLonge posted a photo on his Instagram page with the caption: "Rehearsals start today… And yes there will be a new album #SorryForTheWait #Blink."
The Blink lads didn't deliver the news through a boring press release, instead the singer posted the following photo on Instagram. It shows the three band members rocking some dubious teenage hairstyles (we've all been there).
Speaking to Wondering Sound, DeLonge said Blink have their "very first big writing session" coming up where they'll "get together and lay down our first tracks" for the record.
The last album from Blink-182 was Neighborhoods in 2011. Although after they left their label Interscope in 2011, the band self-financed and released the Dogs Eating Dogs EP in December 2012.
The frontman also discussed the 15th anniversary of Enema Of The State. "I just knew it was our best record. We [came] out with this record and out of nowhere, the label goes, 'Holy f**k, there's something here'. It caught them by surprise."
The rock trio were the headlining act for the Reading and Leeds Festivals earlier this summer. Tom Delonge will be putting out a new album with his side project Angels & Airwaves on Halloween.