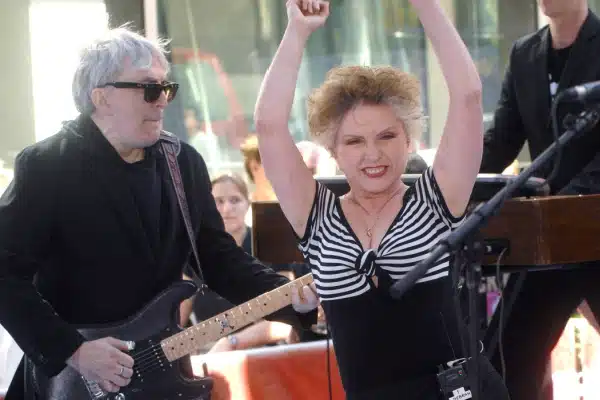 Would you like to listen to the article instead of reading it?
Chris Stein, founding member of Blondie, is to release his memoir, 'Under A Rock'.
The book which will explore Stein's early years, the rise of Blondie among other topics, will arrive on 11 June next year.
Blondie lead singer Debbie Harry will also provide the forward for this memoir.
Stein confirmed this via social media, adding, "Ok Here we go. I've been working on this memoir for two years and it'll show up allegedly in 2024. I mean, I like it… I wrote the whole thing myself. It's got a lot of weird ass stuff that actually happened even if it might seem made up. I'm quite looking forward to people interacting with it".
I'm quite looking forward to people interacting with this. Be prepared to look stuff up. Also there's a lot of weird ass stuff that might seem made up but really actually happened. Out next year pic.twitter.com/6MdSc2jxmr

— Cʜʀɪs Sᴛᴇɪɴ (@chrissteinplays) November 15, 2023
Last month, Sting confirmed he would perform at Cork's Musgrave Park next year, supported by Blondie. More on that here.
"heartbreak"
Earlier this Summer, Chris Stein announced the horrific news regarding the death of his daughter Akira.
Stein stated that Akira had died from a drug overdose.
"We lost our daughter and sister Akira at the end of May to an overdose. I've been posting as usual because it distracts from the heartbreak", he said at the time.
Following this, Blonde lead singer, Debbie Harry who is also godmother to Stein's two daughters Akira and Valentina, shared a heartfelt message via the official Blondie Instagram account.
She wrote, "Dear fans and friends, I had an awakening at the end of Blondie's recent tour which came from all of you on my birthday. All the birthday wishes and generous presents are such a sweet reminder of the loyalty of our Blondie fans so thank you for that".
"It's hard for me to believe at my age cause I'm still playing music for you all and luckily, in spite of a few injuries and surgeries, can still put on a show and the best part, many of you are still in the audience. The flip side of this positivity is the loss of my god daughter Akira. She was just turning 20 and we lost her to Fentanyl".
See the post in full here.