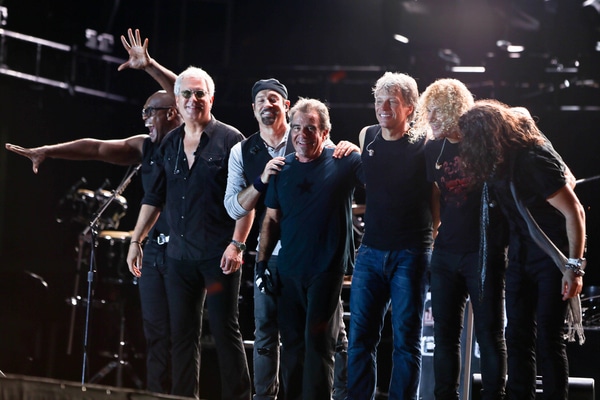 The music video for Bon Jovi's "It's My Life" has surpassed one billion YouTube views. It is the first track which was released by the band to reach this milestone. Check the video out below.
Despite the song featuring in the band's 2000 album "Crush", the video was not uploaded to YouTube until 2009. The video was also directed by Wayne Isham. Isham had worked on previous Bon Jovi tracks, including "Someday I'll Be Saturday Night", "In These Arms" and "Bed Of Roses".
Bon Jovi's latest album "2020" was also released last October via Island Records. The album was co produced by lead singer Jon Bon Jovi and John Shanks. "2020" also features the entire touring band including drummer Tico Torres, guitarists, Phil X and John Shanks, keyboardist David Bryan, along with percusionist Everett Bradley.
Speaking of the billion club, we already brought you the news that Nirvana's "Smells Like Teen Spirit" surpassed 1 billion streams on Spotify. More on that here. 
Bon Jovi & Rock Royalty 
Since their formation in 1983, Bon Jovi have earned their place among the global royalty of rock bands, having been inducted into the Songwriters Hall of Fame and the Rock Hall of Fame in a career spanning more than 30 years.
The band have a huge catalogue of rock anthems, performed at thousands of concerts in more than 50 countries for more than 35 million fans and have sold over 130 million albums in their time.
The band's ticket grosses stood at $1 billion from the last decade alone.
Here's a reminder why so many people love that song "It's My Life".
Jon & Jagger
Back in March, before his catapult to fame, Jon Bon Jovi said that Mick Jagger of the Rolling Stones once pretended to be band mates with him.
Jon was working at the Power Station Recording Studio in New York. Aged just 18, he said he encountered legendary figures like David Bowie, Freddie Mercury and Mick Jagger himself.
"They paid me $50 a week to be the gofer and if it was a weekend or a late, late night, I could go in and record", Bon Jovi said.
Bon Jovi claimed that one night at the studio, Jagger pretended to be in a band with him called the Frogs.
He recalled, "I'll never forget this, I was outside paying my cabby… and The Stones got out of whatever car it was they were getting out of".  
Adding, "The photographer is screaming, 'Mick, Mick, Mick! Give us a picture!' and I swear to you, he grabs me and these kids and he says, 'Here's my new band, The Frogs' And we took a f*****g picture". 
More on that report from Nova here.