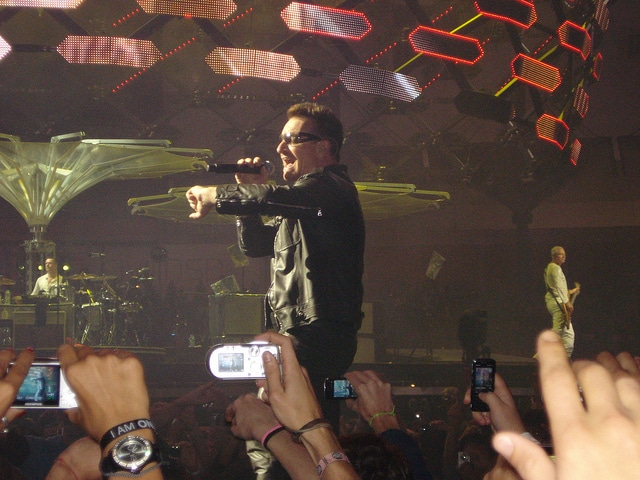 U2's frontman Bono is backtracking a little bit on the band's free album giveaway, after initially defending the venture.
The singer was answering questions at a Facebook Q&A, when he apologised for the intrusion of Songs Of Innocence on iTunes subscribers' accounts.
From the outset Bono has been very brash about the Apple LP launch, describing U2′s decision to shake up the music industry as "punk rock." Fellow musicians, industry experts and music critics tore in to the band, but the lads generally seemed undaunted by the avalanche of abuse they've received since the controversial giveaway.
That was until a Facebook Q&A comment shook the Irish man to his core. The frontman was asked, "Can you please never release an album on iTunes that automatically downloads to peoples playlists ever again? It's really rude."
Bono responded, "Oops. I'm sorry about that. I had this beautiful idea and we got carried away with ourselves. Artists are prone to that kind of thing. Drop of megalomania, touch of generosity, dash of self-promotion, and deep fear that these songs that we poured our life into over the last few years mightn't be heard. There's a lot of noise out there. I guess we got a little noisy ourselves to get through it."
U2 were also asked, "Why doesn't Larry and Adam have cool names like The Edge and Bono?" Larry seemed genuinely hurt by that one, watch the Q&A video below.