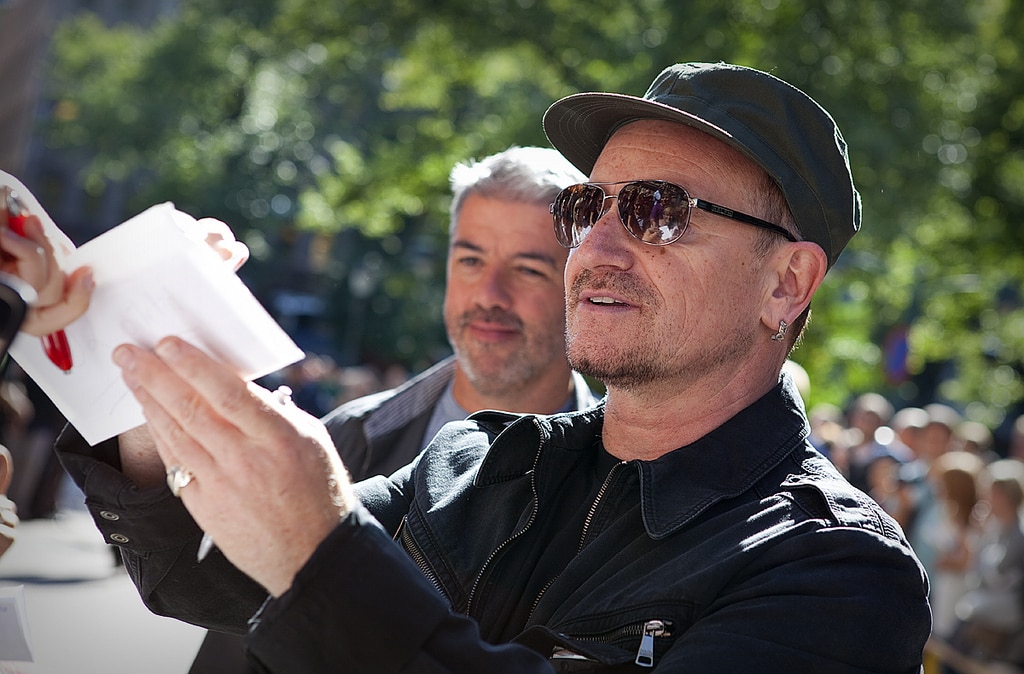 Brighton rock duo Royal Blood have said they received some words of wisdom from Bono following the release of their debut album. They also revealed that they were then invited on a boat trip down the Thames by the U2 singer!
In a recent interview Royal Blood drummer Ben Thatcher said that he has been given a good talking to by Bono. Thatcher said the Irish rocker gave the duo advice on the success and pitfalls of the music industry.
"Yes, I talked to Bono! He's a lovely man! I've got some time for him," Thatcher said. "I didn't think I would gel as well as I did with him. I even got invited on his boat down the Thames. Of course, I went! He was DJing. He is a legend."
He went on to say that they received a gift from Bono when they played a Dublin gig in The Workman's Club for the first time. The U2 guys left all the ingredients for Black Velvets in their dressing room with a little note saying, `Welcome to the music industry'. Thatcher said, "We were like, think of how busy his life is and he had time to think of us."
Singer Mike Kerr previously told NME that the band worked out of a warehouse space in Burbank to create their new album. Kerr also spoke about composing the LP and explained the importance of being proud of the work you are producing.
"We"d party at night and write all day. By that point, we felt the record was coming together and there was a bit of a theme between the songs," says the singer, who added that they wrote around 50 songs for the disc.
He explained that they had a motto of "anything you're not proud of, bin it," with the resulted in a "way sexier, more confident sounding" album.
The duo also revealed that they were inspired by Gordon Ramsay's Kitchen Nightmares, as humour is a big factor for them when creating new music.
"Humour is our secret weapon," Kerr says as if everybody already knew it. "Things that are funny to us are usually quite creative and inspiring. I think when you're touching on things that are funny it's usually because they are quite uncomfortable and when things are uncomfortable it is perhaps because they are unique and different. Whereas something that doesn't make you feel that is probably mundane and uninteresting.
"If I make a guitar sound and Ben thinks it sounds like a goose, then it's funny and interesting. I remember when Out of The Black was coming together and to us it was not a good riff, it was a stupid riff – so metal head and white yet when the laughter stops, it reveals itself to be something different and interesting."
Royal Blood's new album How Did We Get So Dark? was released today.
You can download it HERE and start learning the words, as the rock duo are due to play the 3Arena on the 26th November; exciting times!
You can download How Did We Get So Dark? HERE
Photo Credit: Ulrica Törning
By Charlotte Dillon