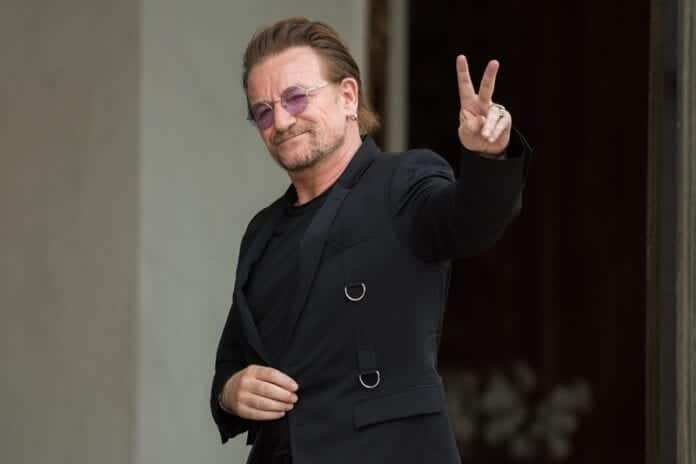 Bono has launched a new vaccine campaign animated series called 'Pandemica' which aims to raise awareness about vaccine inequality.
The U2 frontman is joined by a stellar cast as Penelope Cruz, Michael Sheen, David Oyelowo, Kumail Nanjiani, Phoebe Robinson, Wanda Sykes, Nick Kroll, and many more all feature in the new series.
The seven-episode series features the stars as different characters as they highlight the lack of coronavirus vaccines available to people in many of the world's poorest countries and all episodes are available here and you can check out the first one below.
Pandemica was created by the One campaign, the global health and anti-poverty organisation co-founded by Bono, in collaboration with Hive.
The new series is illustrated by artist Andrew Rae with animation by Titmouse, with music and sound design by father.
The One campaign describes Pandemica as a "never-ending pandemic purgatory, where COVID-19 never goes away, but continues to mutate and cross borders. It's the most deadly place on earth, where twice as many people die, the global economy loses an additional US$9.2 trillion, and life as we once knew it does not return for anyone. Sound familiar?"
Bono told Rolling Stone: "Beyond the animation and subversive humor, you'll see that Pandemica is the worst place to be in the Covid-19 pandemic. While Pandemica may not be a real place, for billions of people around the world it's all too real.
"Vaccines now bring the hope of a way through, but it won't be a way out unless every country on the planet has access to enough vaccines. If this vaccine isn't everywhere, then this pandemic isn't going anywhere."
According to Rolling Stone, less than 1% of Covid-19 vaccine doses administered globally have gone to people in low-income countries.
COVAX which stands for Covid-19 Vaccines Global Access is a global initiative created last year to ensure that all countries receive equal vaccines and treatments for Covid-19.
92 low and middle-income countries are eligible to receive vaccines through COVAX. The US, the UK, Germany, China, France, and India are the biggest donors to the initiative.
ONE campaign CEO Gayle Smith said: "This virus has waged war on the world and we need to fight back with all we've got. Vaccine access isn't just about what's fair, it's also about what's smart – we can't end a global pandemic until we stop the virus from spreading and mutating everywhere." (Quotes RTÉ)
Meanwhile, U2 recently announced their 'Virtual Road Series' which will see some of their iconic concerts streamed on YouTube. For more information, you can check out Radio Nova's report on it here.