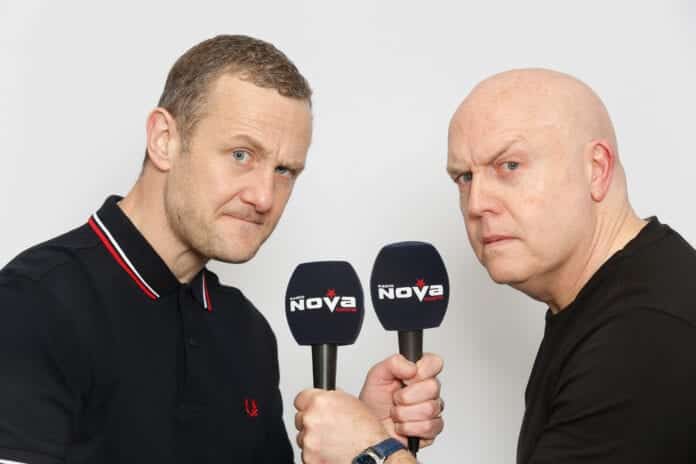 Cereal messers PJ Gallagher and Jim McCabe will kick off breakfast from Thursday 1st April 2021 as the new presenters of Radio Nova's 'Morning Glory'… no joke!
The 'anything goes' dynamic duo of PJ and Jim have proven a hit on radio. First teaming up on air in 2016, the pair have enjoyed huge success over the past five years, including beating off stiff competition to win IMRO Radio Awards Breakfast Show of the Year, two years running, and almost doubling their ratings.
Now the award-winning show is to move to Radio Nova and PJ Gallagher says, "Radio Nova is already Dublin's best radio station by a mile, it's also the first place I ever got to present a show years ago so going back there with Jim feels like the perfect place to be. It can't start quick enough for me."
"I'm looking forward to it! It's like having the excitement of a new show but with all the comforts of the old one. So it's the perfect combination really! And Nova is such a special brand for anybody associated with radio in Dublin!" says co-host, Jim McCabe.
The new show will feature news, sport, weather, traffic and craic every day as well as the most seriously addictive music in town!
Radio Nova CEO/Programme Director, Kevin Branigan says, "I'm thrilled to welcome PJ Gallagher & Jim McCabe to Radio Nova. Nova is all about music and craic so PJ and Jim will fit right in here from Day 1. They are in a class of their own as on-air duo and I've no doubt they will be a big hit with Nova's listeners throughout Dublin city, county and the wider commuter belt."
'Morning Glory with PJ & Jim' will kick off on Thursday 1st April and air weekday mornings 6am – 10am on the seriously addictive Radio Nova.