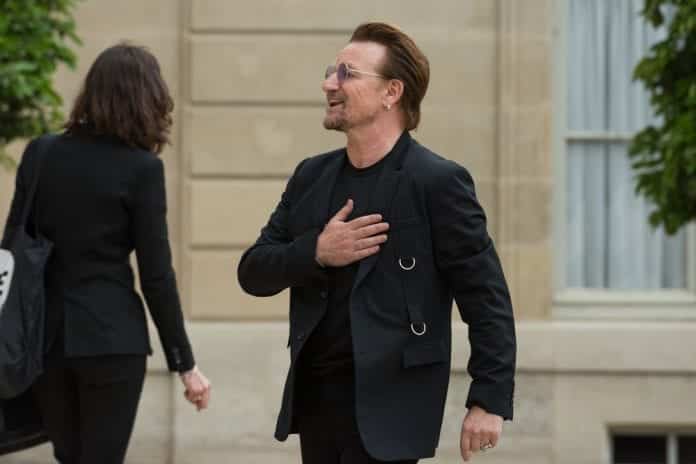 U2's Bono could be soon looming over Dublin City centre as a giant statue, inspired by Jonathan Swift's Gulliver's Travels. The business man behind this venture is Paddy Dunning.
Billed as "the tallest moving statue in the world", the giant is made up of millions of LED pixels. It can also take the form of a man or a woman.
"Could easily be Matress Mick or Marty Morrissey" – Dunning
"We were thinking of Bono over Dublin", Dunning explained.
Adding "but it could easily be Mattress Mik, or Marty Morrissey ten ­stories high like the Statue of Liberty. That is the beauty of the matrix we patented. There is simply nothing else like this in the world".
Dunning also explained that he got the idea from plans he got from a Gulliver giant in Belvedere House, Westmeath.
Paddy Dunning then learned that LED pixels could make it possible for his giant to take on the likeness of a well known historical figure. This led to a figure of John Lennon in the Docklands in Liverpool.
Paddy Dunning's company has also hired CBRE, the world's largest real estate company, in his attempt to find possible sites for this structure. This includes a multi-storey statue mounted on a plinth, housing a novel exhibition.
"not just a matrix statue"
"It's not just a Matrix statue", Dunning said. "It also has a viewing tower where you can look out over the city". 
The truly remarkable aspect of this Giant, is its ability to talk about a famous person and then transform it into a real person!
Dunning also explained that he will not be hanging around for long, given the fact that tall structure plans are usually met with planning objections in Ireland.
The business man said, "We won't be fighting anything like that. This giant will go where he is wanted and there's a tremendous amount of interest". 
The giant is expected to have around 500,000 visitors a year and accrue annual revenues of €12million. Depending on its location and site, the structures can cost between €15-20million.
"Real potential on so many levels"
This Irish Giant also has some household names on board.
One such big name includes Jim Pattison. Pattison is the owner of Ripley's Believe it or Not, Guinness World Records as well as Ripley's Aquariam's Attractions. He is also the president of Ripley Entertainment Inc.
On this project inspired by Dunning,  Mr Pattison said, "The Giant has real potential on so many levels, iconic landmark, attractions, technology, lighting, education and, most importantly, family fun!". 
He also added, "The outside will be an artistic canvas that can celebrate any event in the community and inviting every guest to be one of the many beautiful faces of the Giant".
"Now we are very excited to see which world-class city will be the first to take advantage of this gigantic opportunity". 
Bono
Meanwhile, the daughter of the real Bono, Eve Hewson had plenty to say about her father's antics when he was doing the school runl! More here.
See here for more news on U2.
Nova's Marty Miller also talks about Bono's Springteen impression here.