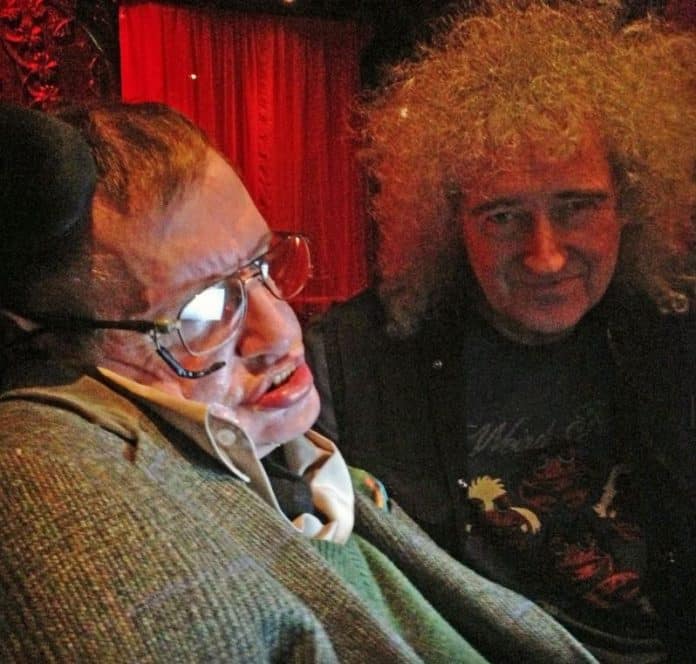 Prof Stephen Hawking, the visionary physicist was renouned for his extensive work in the field of black holes and quantum theory but the late scientist built up an impressive music portfolio over the years.
After attending a Depeche Mode concert, Hawking was asked of his thoughts on the gig,
'It was a great concert, they had real energy. I don't think many people would have expected to see me there but I'm very glad I went, even though I was sitting just in front of the speakers and my ears were ringing for the next 24 hours. .. I try to make it to a pop concert every now and again. I have also seen Pink Floyd and Tracy Chapman while I was in the U.S.A. And Status Quo…but I left after 20 minutes, they were terrible.'
Hawking with his distinct voice (used by a computer generated device) also guested on albums from Pink Floyd and a live performance from U2.
When U2 filmed a concert movie for Innocence + Experience: Live in Paris (2015), they used an excerpt from 'Stephen Hawking Global Citizen.' The choice to use that speech made all the more significant in the wake of the of the recent terror attacks that had taken place at The Bataclan in Paris. The concert had to be rescheduled as a result of the attacks.
When David Gilmour saw a TV ad in the 1990's featuring Hawking he decided to use samples from of it on 'Keep Talking' from 1994's The Division Bell  and again on 'Talkin Hawkin' found on 2014's The Endless River.
While a similar sound features on Radiohead's album OK Computer It's actually Thom Yorke paying using a mac computer to pay homage to the scientist's familiar voice.
Meanwhile the world of music from the likes of Dave Grohl to Brian May have paid tribute to Hawking across social media,
"Remember to look up at the stars and not down at your feet" – RIP Stephen Hawking you fucking legend.

— Foo Fighters (@foofighters) March 14, 2018
https://twitter.com/Courtney/status/973803056679870465
Sad day for science and dreamers alike…RIP Mr Hawking ✨ Thank You!!! #Repost space
・・・
RIP to… https://t.co/EMIi9dyLVW

— 📷 (@NikkiSixx) March 14, 2018
RIP Stephen Hawking pic.twitter.com/2ddQllbT3l

— Alice Cooper (@alicecooper) March 14, 2018
Sad day for science and dreamers alike…RIP Mr Hawking ✨ Thank You!!! #Repost space
・・・
RIP to… https://t.co/EMIi9dyLVW

— 📷 (@NikkiSixx) March 14, 2018
https://www.instagram.com/p/BgTLL12l9Oc/?utm_source=ig_embed&utm_campaign=embed_ufi_test