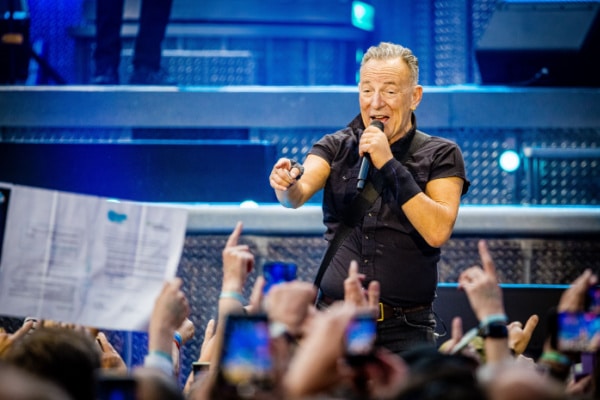 Would you like to listen to the article instead of reading it?
Bruce Springsteen has released an original track which he made for the film, 'She Came To Me', a new romantic comedy directed by Rebecca Miller.
The track which you can check out below, is titled, 'Addicted To Romance', and will see The Boss collaborate with Bryce Dessner of The National.
Bruce Springsteen wrote the lyrics for the tune, while his wife Patti Scialfa lends her vocals, which is orchestrated by Dessner, who also co-produced the track alongside keyboardist Ron Aniello.
Kyle Resnick plays trumpet on the song, with Benjamin Lanz on trombone.
"one of the best and most rewarding experiences"
Releasing a statement, Bryce Dessner described working with Rebecca Miller, "one of the best and rewarding experiences of my creative life".
Dessner continued, "The film, which centers around a composer, features two big on-screen opera scenes that I composed specifically for the film, as well as a score that features pianist Katia Labèque and full orchestra conducted by my friend André de Ridder".
He also added, "When Rebecca asked me about working on a song for the end credits I immediately thought (perhaps unrealistically!) that it would be incredible to ask Bruce Springsteen to write a song. Rebecca agreed, and we sent the film to Bruce, and, to our surprise and delight, he responded very positively. Shortly after, Bruce sent us a demo of the song he wrote inspired by the film, 'Addicted to Romance,' which felt like an instant classic the minute we heard it".
"The song also features Bruce's wife, Patti Scialfi, and their voices blend together for the perfect ending to the movie. As a lifelong Bruce fan, along with my bandmates, he is one of our biggest influences, it was a dream to work on this song with Bruce, and he was incredibly generous and open to my ideas and contributions".
'Addicted To Me', is out now, and 'She Came To Me' will hit US cinema screens on October 6, starring Anne Hathaway, Peter Drinklage, Joanna Kulig, Marisa Tomei, and Brian d'Arcy James.
Check out the soundtrack below.
News of this soundtrack comes a week after Bruce Springsteen was forced to postpone all remaining tour dates, as he recovers from peptic ulcer disease. More on this here.