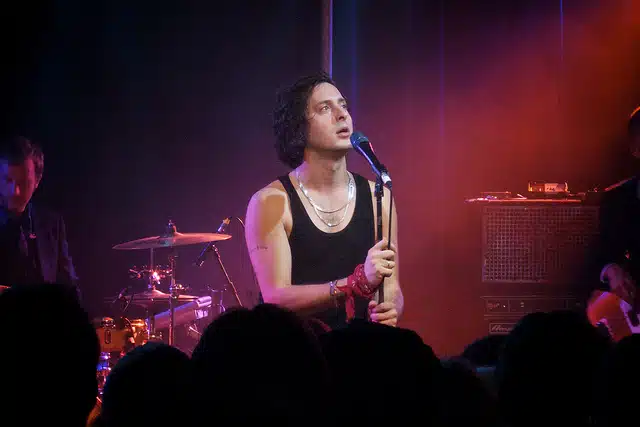 The Libertines' guitarist Carl Barat has been speaking about his battles with heroin and crack.
In an interview with The Guardian, Barat chatted about his new side-project The Jackals and the demons that pursued himself and fellow Libertines bandmate Pete Doherty.
Journalist Tim Jonze asked the co-frontman and guitarist why he didn't like doing heroin?
Barat said: "It made me feel nauseous for a start, and that's never a pleasant experience. Also, my drugs have always been uppers because I like to be in control of my faculties – I've got so much to expel and express that I feel like heroin's slowing me down.
He then pointed out the downside of the heroin in regards to sex. "It also makes you sexually inactive, and I didn't want to be sexually inactive as a 23-year-old. And also, it's just a drag – it's smelly with all the paraphernalia and burned fingers. It's not romantic opium, it's skanky heroin."
It certainly isn't a pretty picture Carl paints, however when he decided to finally try and change his ways, it was heartbreaking to watch his best friend Pete Doherty fall deeper and deeper into the drug's grasp.
"I embraced it as much as Peter did, no doubt about it. And that made it hard, of course it did. But I had a rule that said you can't do heroin and crack, because they seemed to be in a different area. Now that rule would maybe have been broken if I had been interested in crack and heroin. But to me crack is just panic and heroin is inactivity … but hopefully that's all behind us."
He also spoke about Pete's recent completion of a drug rehabilitation programme in Thailand. "It had all the hallmarks of someone who really fucking means what they say."
However he is concerned for Pete's return to the UK, familiar surroundings can sometimes lead to a relapse. "I don't know, man, it's baby steps … and you don't want to fall into that fucking abyss of habit and familiarity and the crutch of people you know in the nefarious little world behind curtains way past dawn. That's the other end of the spectrum I'd be keen to see avoided. But we don't have to rush back into the metropolis while Pete finds his feet. There's talk of going to the Pyrenees next, because Thailand is a bit of a hike every time."
The Libertines are coming to Dublin this summer. The indie rockers will arrive in Ireland for the first time in nearly a decade, playing the 3Arena (formerly o2) on Thursday July 9th.