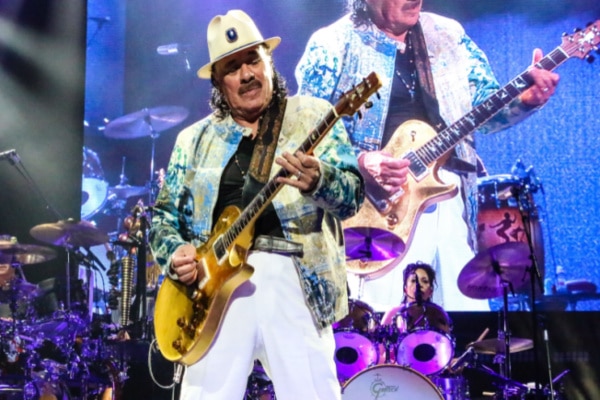 Carlos Santana is reportedly "doing well", as he was rushed to hospital after collapsing on stage during a gig in Michigan.
This incident took place during the singer's Miraculous Supernatural Tour. He had been performing at Pine Knob Music Theatre, near Detroit.
His band Santana had been performing through this tour with Earth, Wind And Fire.
Reports have stated that the singer was "overtaken by heat exhaustion and dehydration" during the show. He was also attended to by multiple medical staff.
The audience were also asked by venue staff to send their "prayers" after Santana had taken ill. More on this incident here.
Carlos Santana "doing well"
After being rushed to hospital, Santana's manager Michael Vrionis has announced that the singer is "doing well" in his recovery.
"Carlos was taken to the emergency department at McLaren Clarkston for observation and is doing well", he said.
Vrionis also confirmed that the band's performance at The Pavilion at Star Lake in Burgettstown, Pennsylvania, would be postponed.
Santana's recent health scare comes months after the singer was also forced to postpone his residency at Las Vegas, having undergone a heart procedure.
"Last Saturday I had an incident where I asked my wife Cindy to take me to the hospital because I had this thing happening in my chest", the singer said in a statement.
Santana also added, "So we went there (and) we found out we had to take care of it. So I am, and I'm going to be taking time out for a little bit to make sure I replenish and I rest and catch up with my health so that when I play for you I would play the way I'm used to and give you 150 percent. I wouldn't show up unless I can do that". 
He was due to begin these shows last December. However, he resumed the residency in January.