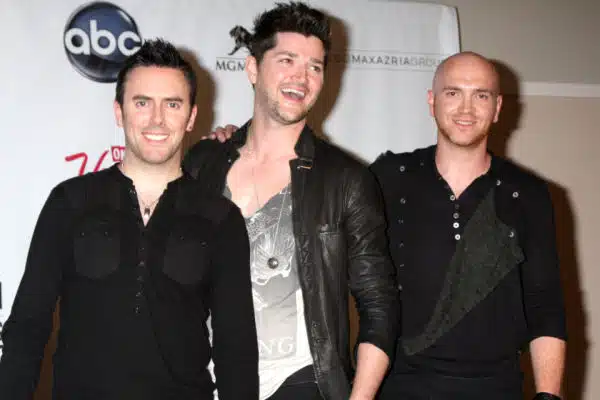 Reports have suggested that the Script's drummer Glen Power (see left in photo) has been touted to join Foo Fighters, according to reports.
Foo Fighters' drummer Taylor Hawkins was found dead before the band were to hit the stage during their tour of South America. He was 50 years old.
Following his death, the band released this statement, "His musical spirit and infectious laughter will live on with all of us forever. Our hearts go out to his wife, children and family, and we ask that their privacy be treated with the utmost respect in this unimaginably difficult time". 
Following this, two tribute concerts were set up in Hawkins' honour, which took place in LA and London.
These performances saw Taylor's son Shane Hawkins join Foo Fighters on stage for a live cover of Foos tracks 'My Hero' and 'I'll Stick Around'.
Following these performances, Shane Hawkins earned the Performance of the Year award at the Drumeo Awards. More on this here.
Foo Fighters Confirm Shows
Back in January, Foo Fighters confirmed their first set of shows since Hawkins' death.
The band announced that they will headline several festivals this year, including this year's Boston Calling, which takes place on May 26.
"We will be headlining @bostoncalling Friday, May 26th. Presale tickets go on sale beginning Thursday, January 12th at 10am ET", the band wrote.
Foo Fighters will also headline at Columbus' OH's Sonic Temple festival on May 28, along with Bonnaroo on June 18.
Will these shows include Glen Power on drums? Watch this space.