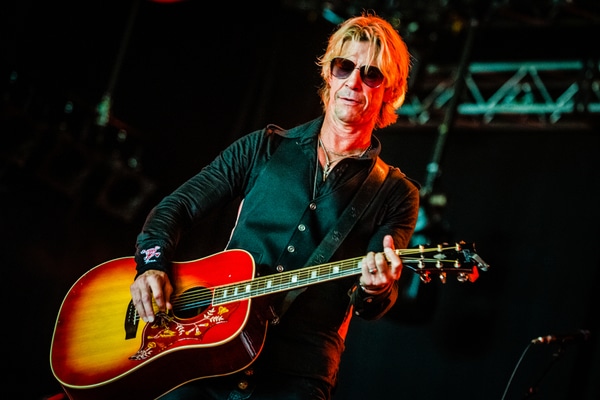 This weekend on Nova we will mark the birthdays of two members of one of the best rock bands of all time, as Guns N'Roses pair Duff McKagan and Axl Rose turn 58 and 60 respectively.
Last night, our very own Marty Miller from [email protected] had a chat with Guns N'Roses bassist McKagan, where he spoke about along with many things, looking at a property in Ireland as a European base! That would be so cool, wouldn't it?
In a little extract from the interview, McKagan revealed that he had "looked at places in Ireland".
"I've searched the internet", McKagan said. "I've been looking for places (in Ireland) to have as a base".
It was at this point that Miller revealed that he knew of a "campervan" that McKagan could avail of.
There will be more from that McKagan interview over the next few days. Tune into Nova for more.
Guns N'Roses Were To Return For "a couple of shows"
After years of tensions and disagreements, Rose, McKagan and Slash finally reunited as Guns N'Roses back in 2016 for a "couple of shows" and like they say, the rest is rock and roll history! 
The band eventually embarked on that massive "Not In This Lifetime Tour", which began in April 2016 and finished in November 2019. This also included selling over 5 million tickets across 158 shows and grossing €484.56 million for the band.
Even Slash was surprised over how quickly the chemistry between the Guns N'Roses trio returned.
"When we got back together, that whole chemistry and that thing that makes what G'N'R is for me and Axl and Duff… it all just sort of came together", he said.
"After that long a period of time, we'd sort of forgotten what that was like. Everybody got along great," the G'N'R guitarist added. "That's actually why the tour has kept going, because initially it was just going to be a couple of shows". 
Last April, Duff McKagan also spoke about the first time he met Slash. He called it a "culture shock". More on this here.
The band also released a lyric video for new single Hard Skool.
Hard Skool, the official lyric video out now! 🔥 https://t.co/F4Tp0dJu00 pic.twitter.com/cwYEq7pnaI

— Guns N' Roses (@gunsnroses) December 3, 2021