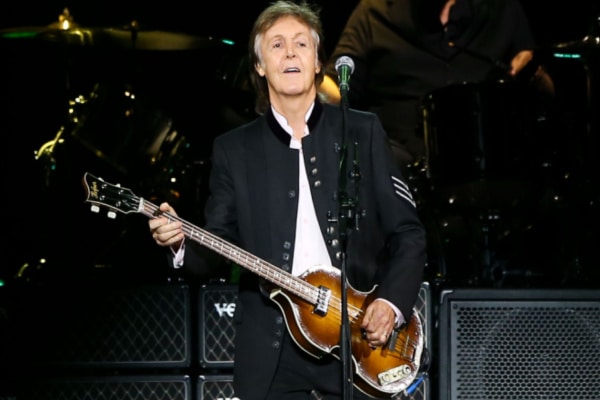 During the final gig of his North American Tour, Sir Paul McCartney was joined on stage by special guests Bruce Springsteen and Bon Jovi.
This concert which took place in New Jersey, also marked the final show of the Beatles icon's Got Back North American Tour. McCartney began this tour back in February.
McCartney of course rocked through a Beatles set which included 'Love Me Do', 'Can't Buy Me Love', 'Blackbird', and of course 'Got Back'.
He also included some of his solo work, 'New' and 'Maybe I'm Amazed'.
"I have a special surprise for you" 
Following a live rendition of Wings' 'Band On The Run', Paul McCartney turned to the audience to introduce a very special guest.
"I have a special surprise for you", McCartney told the audience. "There's a friend of mine. He's a local boy". 
The crowd began to sing "Bruuuce", which saw McCartney add "(laughing) I think you guessed it. I said, 'You've got to come and sing with us.' Ladies and gentlemen, Bruce Springsteen!".
Strolling onto stage to a standing ovation, Bruce Spingsteen joined forces with McCartney to sing 'Glory Days' and 'I Wanna Be Your Man'.
He also played guitar on the Beatles' 'The End'.
On top of this, another local act Bon Jovi was later welcomed to the stage.
"I've got 60,000 people who want to sing happy birthday to you", Bon Jovi told the audience, referring to Macca's 80th birthday tomorrow (June 18).
The audience proceeded to wish the Beatles legend a Happy Birthday. Check that out here.
Sir Paul McCartney will next take to the stage to perform as a healdine act for Glastonbury.
Last month, Bruce Springsteen also announced a live 2023 tour with the E Street Band.
"After six years, I'm looking forward to seeing our great and loyal fans next year", Springsteen said. "And I'm looking forward to once again sharing the stage with the legendary E Street Band. See you out there, next year – and beyond!". 
More on this from Nova here.