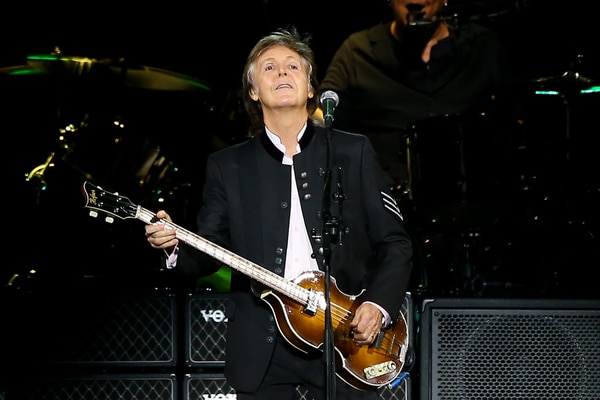 Paul McCartney has been officially revealed as a headliner at this year's Glastonbury Festival.
McCartney was due to headline the 2020 edition before the festival was cancelled by the pandemic. The following year's festival was also cancelled, making this year's the first since 2019.
It had long been rumoured that Macca would headline this year's festival. Speculation increased last week when McCartney took to his Twitter account to share a cryptic teaser based on the word game Wordle.
"Wordle 121 25/6," wrote McCartney, prompting fans to speculate that 25/6 was a reference to June 25th, the likely date for the ex-Beatle to take the stage at Glastonbury. The tweet also featured six blank green squares, which fans claim spell out GLASTO, the festival's nickname.
Wordle 121 25/6

🟩🟩🟩🟩🟩🟩

— Paul McCartney (@PaulMcCartney) February 24, 2022
In 2020, McCartney announced his Glastonbury appearance by sharing images of composer Philip Glass, actress Emma Stone and rock n' roll pioneer Chuck Berry on his Twitter account. Put the names together – Glass-Stone-Berry – and you get something close to the festival's name.
— Paul McCartney (@PaulMcCartney) November 18, 2019
The other headliners announced for this year's festival are Billie Eilish, Kendrick Lamar and Diana Ross.
Festival organiser Michael Eavis had previously promised that this year's edition would be "the best show ever."
"We're going to run a really brilliant show this year, and it's going to be the best show ever I'm quite sure," he said. "People are so excited to come back… they're really looking forward to coming back… it's going to be quite the exceptional event."
Eavis's daughter Emily, who is a co-organiser of the festival, shared the line-up on her Twitter account.
"We are very happy to bring you the first shortlist of artists from the main stages for Glastonbury Festival 2022 – and if you can believe it there's even more to come," she promised.
Other acts confirmed for this year's festival include Amyl and the Sniffers, Blossoms, Charli XCX, Crowded House, Elbow, Foals, Fontaines DC, Idles, The Jesus and Mary Chain, Noel Gallagher's High Flying Birds, Pet Shop Boys, Primal Scream, Robert Plant & Alison Krauss, Skunk Anansie, Supergrass, The Waterboys and Wolf Alice.
Here is the first Glastonbury Festival 2022 line-up poster, which includes our final two Pyramid Stage headliners: @PaulMcCartney (Saturday) and @kendricklamar (Sunday). Many more acts and attractions still to be announced. pic.twitter.com/Tgo4HYMb6l

— Glastonbury Festival (@glastonbury) March 4, 2022
McCartney sets off on a 14-date tour of the US next month.
Beginning in Washington April 28th, the Got Back tour will be McCartney's first since he completed his Freshen Up tour in July 2019.
"I said at the end of the last tour that I'd see you next time," McCartney wrote on Twitter. "I said I was going to get back to you. Well, I got back!"
GOT BACK. NORTH AMERICAN TOUR 2022

"I said at the end of the last tour that I'd see you next time. I said I was going to get back to you.
Well, I got back!" – Paul

More info: https://t.co/KhK4WK8Wlr #PaulMcCartneyGotBack pic.twitter.com/106IYKd4fz

— Paul McCartney (@PaulMcCartney) February 18, 2022