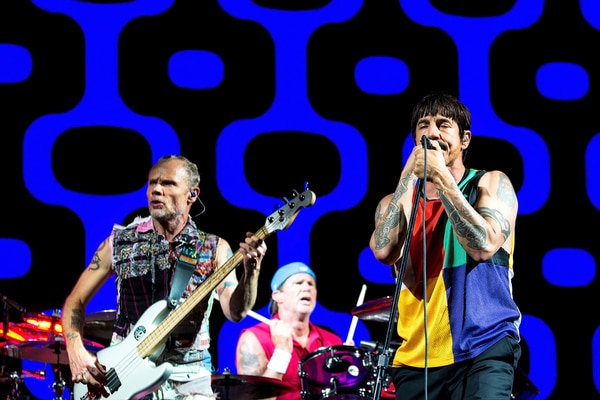 Red Hot Chili Peppers have released their latest single 'Poster Boy' from their upcoming album 'Unlimited Love'. Check it out for yourselves below.
'Unlimited Love' will arrive on April 1 via Warner Bros. The band had already shared the single 'Black Summer' which also features on this album.
This is the Chili Peppers' first record since they released "The Getaway" in 2016, and their first album since the return of guitarist John Frusciante to the band in 2019.
'Poster Child' sees Red Hot Chili Peppers frontman Anthony Kiedes share a sesimic list of namedrops which begins with "Melle Mel and Richard Hell were dancing at the Taco Bell".
Kiedes also refers to artists such as Robert Plant, Duran Duran, Ulysses Grant, Led Zeppelin, Judas Priest, Motorhead and Thin Lizzy and others.
This track also sees Chili Peppers' drummer Chad Smith and Flea play off each other brilliantly, while the returning John Frusciante also fills the track with his understated guitar chords.
The Red Hot Chili Peppers 'Unlimited Love' Tracklist
1. 'Black Summer'
2. 'Here Ever After'
3. 'Aquatic Mouth Dance'
4. 'Not the One'
5. 'Poster Child'
6. 'The Great Apes'
7. 'It's Only Natural'
8. 'She's a Lover'
9. 'These Are the Ways'
10. 'Whatchu Thinkin''
11. 'Bastards of Light'
12. 'White Braids & Pillow Chair'
13. 'One Way Traffic'
14. 'Veronica'
15. 'Let 'Em Cry'
16. 'The Heavy Wing'
17. 'Tangelo'
"Unbelievable"
We of course mentioned the Red Hot Chili Peppers' drummer Chad Smith. Well, last month the drummer spoke about the "unbelievable" experience of meeting the late Rolling Stones sticksman Charlie Watts.
Watts passed away last year aged 80.
Revealing that he crossed paths with Watts back in 1994, Chili Peppers' Smith said, "It was August and there he is in a full suit, standing there at 3 o'clock in the afternoon in the sun looking and watching us soundcheck".
"I'm like 'f*****g Charlie Watts is watching me f*****g play. Unbelievable!'". Find out what else Smith said of Watts via this Report from Nova here.