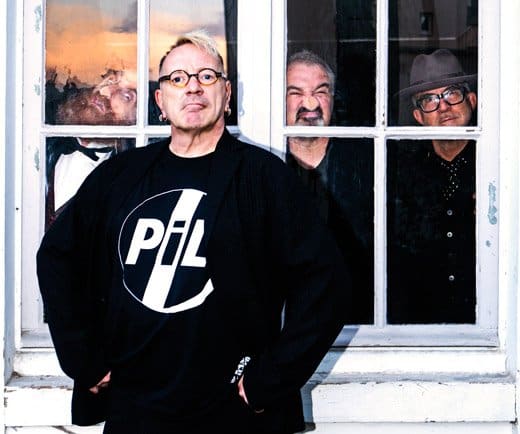 Here's everything you need to know about Public Image Ltd – they're playing at Vicar Street on 28th August.
Public Image Ltd's upcoming show at Vicar Street this month for their 'The Public Image is Rotten' tour is now completely sold out, so if you've managed to bag tickets to see the iconic post-punk group, prepare yourself for an unforgettable and chaotic performance.
Public Image Ltd are widely regarded as one of the most innovative bands of all time. Formed in 1978, Public Image Ltd have secured their place in musical history with their unique sound that incorporates rock, dance, folk, dub, funk and pop, and succeeded in rattling the mainstream through their experimental, spirited tracks, which contributed to the complete reshaping of music over the decades. Set up by John Lydon (Johnny Rotten) the group is currently comprised of guitarist Lu Edmonds, drummer Bruce Smith and bass and key-board player, Scott Firth. Public Image Ltd emerged in the wake of the collapse of the Sex Pistols, where their exploration of different musical genres contributed to the creation of music that unpacked themes of anger, pain and wit.
The group reformed in 2009 after a successful run from 1978-1992 and released their 10th studio album, 'What the World Needs Now…' in 2015, as well as deluxe editions of 'Metal Box' and 'Album' and have continued to wow fans worldwide with their 2018 40th anniversary tour. Public Image Ltd have performed at some of the biggest festivals and venues in the world, including the Isle of Wight Festival and Summer Sonic Festival in Japan, and still maintain a strong following.
Additional to this, the critically acclaimed documentary based on the band's turbulent and convoluted journey, 'The Public Image is Rotten', featured at multiple international film festivals in 2017, including the Tribeca Film Festival in New York and London's Raindance Festival.
Here's a list of what may be considered as their most iconic hits to get you buzzing for their upcoming gig at Vicar Street:
This is Not a Love Song (1983)
https://www.youtube.com/watch?v=Az_GCJnXAI0
Rise (1986)
https://www.youtube.com/watch?v=Vq7JSic1DtM
Public Image (1978)
https://www.youtube.com/watch?v=rIAZ8unRm2c
Seattle (1987)
https://www.youtube.com/watch?v=bFOjktDN0IA
Death Disco (1979)
https://www.youtube.com/watch?v=eFxpL5TpZH0
Warrior (1989)
https://www.youtube.com/watch?v=v1eIs7uUVEo
See Public Image Limited at Vicar St on 28th August!