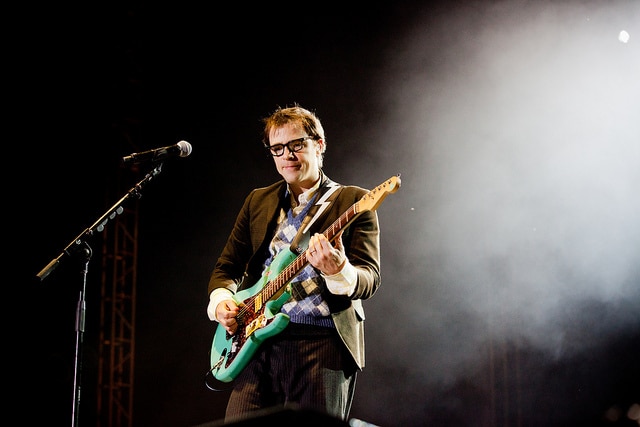 Rivers Cuomo played an almost two hour acoustic show at The Hi Hat in Los Angeles on Saturday, March 10th.
The set naturally included lots of Weezer songs plus a few classic covers (check out the video below!).
The Weezer frontman opened with R.E.M.'s 'Losing My Religion' immediately followed by, the Smashing Pumpkins' 'Today.'
Later in the set, he played the Oasis classic 'Champagne Supernova,' and he ended things with Pixies' ever popular 'Where Is My Mind?' The main stay of the performance was tunes from throughout Weezer's entire 25 year discography.
YouTube user Rey Philip de Joya filmed the full performance and marked out the setlist on YouTube. Here's a table of contents for the video below:
01:11 Losing My Religion
05:34 Today
09:30 Island In The Sun
13:24 Across The Sea
18:44 (If You're Wondering If I Want You To) I Want You To
22:24 El Scorcho
26:00 California Kids
29:24 Feels Like Summer
33:26 Beverly Hills
36:35 The Good Life
41:52 In the Garage
45:44 No Other One
48:55 Magic
53:04 Pork and Beans
56:07 Sober Up
1:00:23 Undone – The Sweater Song
1:04:56 L.A. Girlz
1:08:20 No One Else
1:12:10 Falling For You
1:16:03 Pink Triangle
1:20:27 Why Bother?
1:23:26 Perfect Situation
1:27:32 Champagne Supernova
1:32:09 Say It Ain't So
1:37:14 Buddy Holly
1:44:30 Where Is My Mind?
In other news, Pixies and Weezer are heading out on a co-headlining tour with 29 dates across the US this summer.
According to Rolling Stone: "The two rock groups kick things off in Tampa on June 23rd, play numerous dates on the East Coast and around the mid-Atlantic in July, and finish up on August 12th in Phoenix."