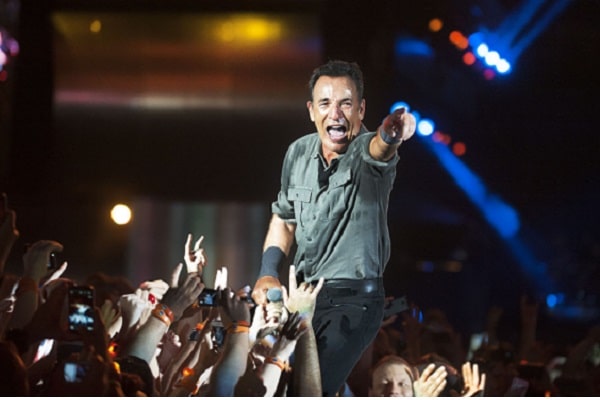 Bruce Springsteen has confirmed that he embark on a tour with the E Street Band in 2023.
For the first time since 2017, Springsteen will reunite with the band which also includes Steven Van Zandt, Roy Bittan, Gary Tallent, Max Weinberg, Patti Scialfa and Nils Lofgren.
Starting in North America in February, Springsteen and co will also hit Europe in late April, and the states in August.
The European leg will also include Spain, France, the Netherlands, Germany, Switzerland, Sweden, Denmark, Norway, Austria, Ireland and France. See more information on this tour here.
"our great and loyal fans"
On this tour, Springsteen released a statement, "After six years, I'm looking forward to seeing our great and loyal fans next year". 
"And I'm looking forward to once again sharing the stage with the legendary E Street Band. See you out there, next year – and beyond!", he added.
Bruce Springsteen and The E Street Band Announce 2023 International Tour! More info on tickets at https://t.co/YahXTJXE7l pic.twitter.com/wUax9aiZ8V

— Bruce Springsteen (@springsteen) May 24, 2022
E Street band member Nils Lofgren also tweeted his delight at the announcement of the tour.
"I better check my passport. 2023 looks promising, magical, adventurous", Lofgren wrote.
"pretty soon"
Back in March, Bruce Springsteen had stated that he would return to touring with the E Street band "pretty soon".
"We'll be out there," he told the E Street Radio Show over the phone.
"We hoped to be out there this year, but I just didn't have the confidence or want to take the risk for my audience that it was going to be OK. We put it off a little while. But we're working on plans to get it all together now, so you'll be seeing the E Street Band pretty soon."
This is the first Springsteen E Street band tour since 2017, while it is also the first time that the Boss will appear with the band since December 2020, when they appeared on US comedy Saturday Night Live. More on this here.
Pat Courtenay suggests you get in the mood for the gig watching this savage version of Badlands from Barcelona a few years back.