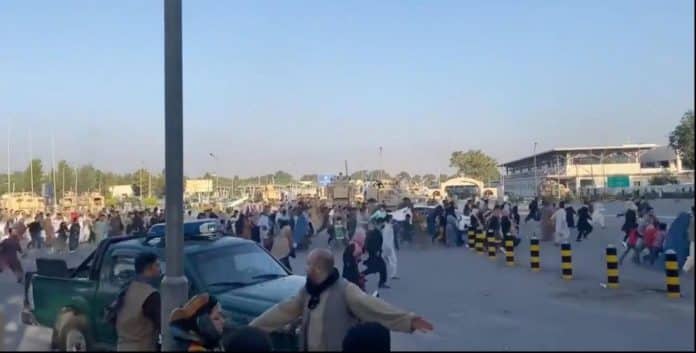 Western nations have been scrambling to evacuate their citizens from Afghanistan since the Taliban took control of the presidential palace in Kabul.
Taliban insurgents took control over the Afghanistan capital with no resistance. The streets in Kabul have since been deserted. The airport are also jammed with hundreds of people trying to flee the country.
Their president Ashraf Ghani has also fled the country yesterday. He said that he wanted to avoid bloodshed.
Hundreds of people in Afghanistan are desparately trying to escape with their luggage to the airport terminal. This was also happening while the sound gunfire broke out.
Another Saigon moment: chaotic scenes at Kabul International Airport. No security. None. pic.twitter.com/6BuXqBTHWk

— Saad Mohseni (@saadmohseni) August 15, 2021
US troops have also been placed at the airport. They are to safeguard the evacuation. They also fired gun shots into the air to deter civilians running into the tarmac to try to board the plane.
A US offical also described the crowd as "out of control". "The firing was only done to defuse the chaos", they added.
"The fruits of their efforts"
Al Zazeera had broadcasted footage of what they claimed was Taliban commanders in the presidential palace with dozens of armed fighters.
Leader, Al Naneem added that this new regime would be made clear soon. He added that that Taliban did not want to live in isolation.
"We have reached what we were seeking, which is the freedom of our country and the independence of our people", he declared. "We will not allow anyone to use our lands to target anyone, and we do not want to harm others".  
"Complete state of shock"
Awful, chaotic scenes at Hamid Karzai International Airport. People scrambling and no where to go. Woman says "look at the state of the people of Afghanistan" #Kabul pic.twitter.com/5Ohe1c81uB

— Yalda Hakim (@BBCYaldaHakim) August 15, 2021
Along with the airports, in Kabul's Chicken Street several scores of Afghan carpets, small cafes, along with handicraft and jewellery stores were closed.
Residents have also reported that government buildings are also shut.
Sherzad Karim Stanekzai owns a textiles and carpet shop. He has also taken the decision to sleep inside his store, to protect his goods.
He said, "I am in a complete state of shock. The Taliban entering that scared me, but (President Ashraf) Ghani leaving all of us in this situation has been the worst". 
"I lost three brothers in seven years in this war, now I have to protect my business". 
Adding that he is unsure when he will see customers entering his shop, he added "I know there will be no foreigners, no international people who will now come to Kabul".
"complete uncertainty" in Afghanistan
A spokesperson for the US State Department said earlier today that all embassy personel which include Ambassador Rose Wilson were transferred to Kabul airport. Most of them have been moved by helicopter to await evacuation.
Hundreds of Afghans have also invaded the airport's runways in the dark, jostling for a seat on of the last commercial flights to leave, before the US forces took over air traffic control.
Another video posted on social media shows men trying to climb onto an overhead departure gangway in a desparate attempt to board a plane.
The sheer helplessness at Kabul airport. It's heartbreaking! #KabulHasFallen pic.twitter.com/brA3WRdPp8

— Ahmer Khan (@ahmermkhan) August 16, 2021
More than 1,000 troops were authorised by the Pentagon to help to evacuate US citizens. They are also helping Afghans who worked for them. It will expand its presence to over 6,000 troops within the next 48 hours.
Minister for Foreign Affairs Simon Coveney also said that there are 23 Irish citizens in Afghanistan. He added that he is "very concerned" about the situation.
"Some have expressed a preference to stay for now. They are working with humanitarian organisations and doing very important work that is becoming even more important now", he said.