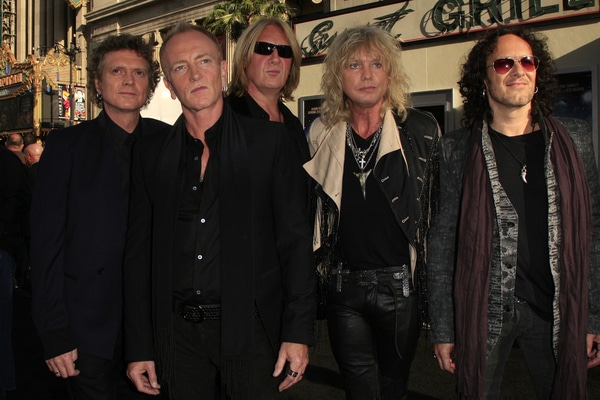 Def Leppard have released a brand new single called Take What You Want.
This latest single follows up their previously released single Kick.
Take What You Want is also includes driving guitars, along with a sing-a-long hooky chorus.  A lyric video for this song will arrive next Friday (April 29).
The track features on the band's upcoming album Diamond Star Halos, which arrives on May 27.
Diamond Star Halos is Def Leppard's twelfth studio album and contains 15 tracks, including Kick and Take What You Want. The album also includes collaborations with Alison Krauss who features on tracks Lifeless and This Guitar. 
Krauss herself is a 27 time Grammy Award winner. Five of these awards came from her collaboration with Led Zeppelin's Robert Plant for the 'Raising Sand' album in 2009.
Meanwhile, longtime David Bowie pianist Mike Garson also features on this Def Leppard album. He features on Angels (Can't Help You Now) and Goodbye For Good This Time. 
Take What You Want
You can check out the audio video for Def Leppard's Take What You Want below.
After the album is released, Def Leppard will begin their long delayed US Tour. This will begin on June 6 in Atlanta, Georgia.
Motley Crue will also co-headline alongside Def Leppard, along with Joan Jett and Poison.
The recording of this album was far from easy for Def Leppard.
Recording it during the pandemic, recording took an international effort as Def Leppard frontman Joe Elliot lives in Ireland, drummer Rick Allen resides in the United States, while bassist Rick Savage, guitarists Vivian Campbell and Phll Collen live in the UK.
Diamond Star Halos tracklist:
1. Take What You Want
2. Kick
3. Fire It Up
4. This Guitar [feat. Alison Krauss & Def Leppard]
5. SOS Emergency
6. Liquid Dust
7. U Rok Mi
8. Goodbye For Good This Time
9. All We Need
10. Open Your Eyes
11. Gimme A Kiss
12. Angels (Can't Help You Now)
13. Lifeless [feat. Alison Krauss]
14. Unbreakable
15. From Here To Eternity