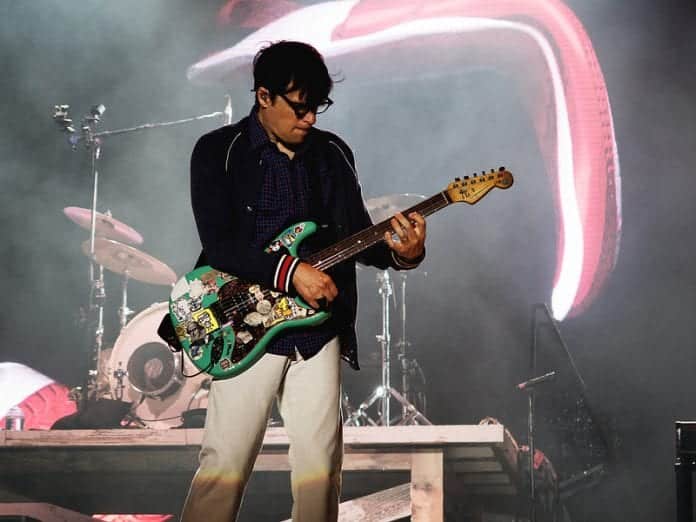 Ahead of the release of Weezer's 11th record, frontman Rivers Cuomo spoke to NME about the new record, the band's current tour and more. The new LP 'Pacific Daydream' is due for release at the end of this week on Friday, October 27th.
The new LP is the follow up to last year's The White Album. Cuomo says the new record will be the band's "biggest departure" from their original sound. Their next album is already planned, which Cuomo has said will be called 'The Black Album' and has described it as being "darker, more experimental and wildly negative".
The band are on tour in the UK at the moment, performing in Manchester, Glasgow, London and Birmingham this week.
Asked to describe the new record, Cuomo said:
"'Pacific Daydream' is the biggest departure we've made from our '90s Beach Boys grunge sound. We really went for some different things. On guitar, we were really influenced by a lot of British bands like The Cure and The Clash. Instead of stepping on the distortion pedal in the chorus, we're stepping on the reverb pedal. We listened to a lot of Phil Spector and 'Pet Sounds' to give it more of an orchestrated approach. It's long been a goal of mine to break away from distortion, but I'm delighted that we've finally achieved it. At the same time, it still sounds like a sing-along, beach bar party album, mixed with sadness and alienation."
Speaking of the inspiration behind the sentimental and nostalgic lyrics, he said: 
I think it's just who I am. To me, that's just what being an artist is about, but other people think it's unusual. I can't imagine being fulfilled as a writer if I wasn't expressing my pain – even if it's through a three minute pop song."
Asked about how he feels when he meets other musicians who have been inspired by Weezer, Cuomo answered:
"Most of the time, it's not that big of a surprise. I kinda get the sense that while Weezer were a commercial and critical success, with had this other success as musicians where a lot of young people around the time that they're becoming musicians themselves, they're into Weezer. They get into a band, start playing Weezer cover songs and then they evolve beyond that and start doing something that seems pretty different. But when they were starting out, they were into Weezer."
He also discussed Finn Wolfhard of Stranger Things covering 'Buddy Holly'.
The whole first season of that show. It reminded me of my childhood and my circle of friends. It was very similar to what my world was like in the '80s. I didn't see his cover though. I gotta see that, I'm sure he did a better job being me than I do."
Photo Credit: Flickr – alexlisciophotos