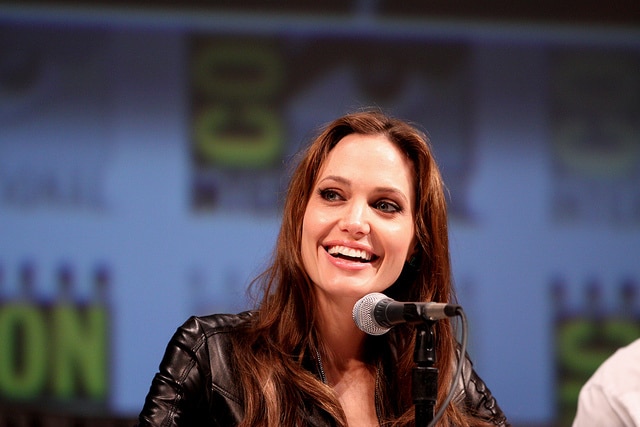 Coldplay's frontman Chris Martin reveals a rather bizarre, yet hilarious story about being kidnapped by actress Angelina Jolie.
The singer recently wrote a new song titled 'Miracles' for Jolie's upcoming film 'Unbroken'.
The back-story of how Chris was convinced to write the song for the soundtrack is a little unorthodox.
Martin claims that the Hollywood A-lister did her best Bond villain impression, enlisting the help of some ex-Navy SEALs to hit him over the top the head, spray him with mace and bundle him into the back of a car.
The singer made the strange confession a the Hollywood luncheon. He was asked by Vulture, how did you come to work with Jolie on the film?
Chris Martin replied: "I got a message that said, 'Meet in this undisclosed location. You'll be blindfolded and picked up by seven ex–Navy SEALs.' So they kidnapped me, hit me over the head, and sprayed me with Mace. When I woke up, I was in an office, and Brad Pitt was doing push-ups as Angelina Jolie was just sitting there with her crown on."
"There was also a guy called Eoghan holding a knife to my throat, and she said, 'Write me a song, or else.' And Brad Pitt said, 'Yeah. What she said.' We wrote a song and then she said, 'It's through to the final eight,' and then we had live eliminations at her house. We came in second, but the main guy chickened out."
'Unbroken' is a war drama film which revolves around the life of the Olympic athlete Louis 'Louie' Zamperini, played by Jack O'Connell. It's based on the 2010 book 'Unbroken: A World War II Story of Survival, Resilience, and Redemption' by Laura Hillenbrand.
Listen to the Oscar nominated song 'Miracles' below.
*Image Gage Skidmore*