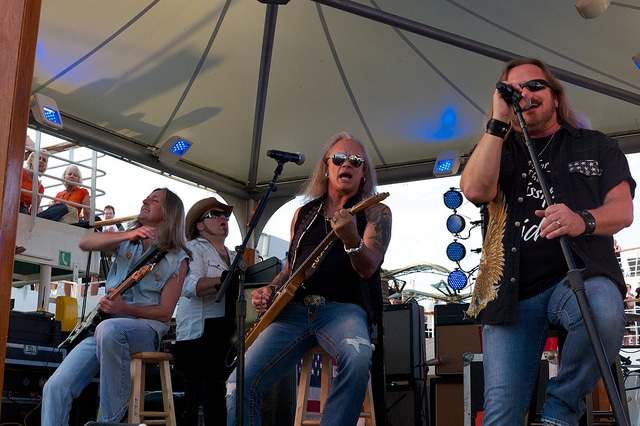 Legendary rock band Lynyrd Skynyrd  have thrilled fans with the announcement that they'll be performing their first two records for a new DVD.
The concerts will take place in the band's home state Florida, and will feature the group playing their earliest records in full.
Lynryd Skynryd's debut album titled (Pronounced 'Lĕh-'nérd 'Skin-'nérd), was released in August 1973. It includes the songs 'Gimme Three Steps', 'Tuesday's Gone' and the phenomenal 'Free Bird'.
Their follow-up record titled Second Helping, came out less than a year later in April 1974, featuring their most well known track 'Sweet Home Alabama', a retort to Neil Young's 'Southern Man'.
Skynryd will be playing their hometown of Jacksonville for two shows in February next year. The group will be playing (Pronounced 'Lĕh-'nérd 'Skin-'nérd) on the first night and Second Helping at the second concert.
Speaking to The Florida Times Union about the gigs, frontman Johnny Van Zandt said: "We've been wanting to go back and recreate these live records for a long time…"
"We decided to come back to our hometown, Jacksonville, and play at the legendary Florida Theatre. Can't wait to rock it."
Listen to the 1975 live version of 'Free Bird' recorded for the BBC below.