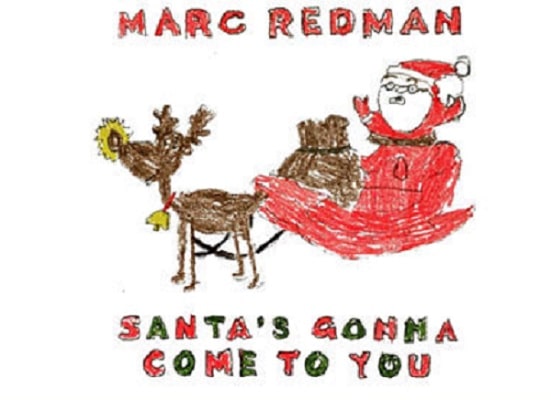 Dublin musician, Marc Redman has released a new Christmas song to spread some much-needed joy for the Christmas holidays. Santa's Gonna Come To You is a reminder to children that even though these unprecedented times are tough, Santa Clause is still coming to town.
This loving track tells of the joys of Christmas and Santa's journey throughout the night of magic, reaching kids all over the world. It is accompanied by a wonderful video, (see below) in which the band fully embrace all things Christmas and kit themselves out in Santa suits.
People are seen sharing wonderful experiences throughout the video as a reminder to everyone what this holiday is about; spending quality time with your loved ones and creating new memories to cherish.
Singer/songwriter Marc Redman spoke to Radio Nova and said children across the world "need to know that Santa`s journey will not be affected by the Pandemic of 2020."
"I was inspired to write this because the year has been very hard on kids, with all major holidays and functions cancelled. I wanted to offer some encouragement to them for the festive season."
Spreading Christmas cheer to children's charity
Redman's festive track may be full of Christmas cheer but, the gift of giving does not stop there. Marc is using the release of this song to raise some much-needed funds for LauraLynn's Children's Hospice.
"All of the proceeds from the sale of the single will go to the LauraLynn foundation. The song is out now on Spotify, iTunes, Apple Music, Google Play, Amazon & more."
Marc hopes proceeds will be enough to help LauraLynn's mission in providing a "Community of Care" that delivers evidence-based, personalised services to children with special-care needs, while also providing family support services and a home to residents, where quality-of-life is paramount.
The single is on sale now for €1.29 on iTunes & Amazon etc. (Under artist name: Marc Redman). Out of the €1.29, the artist receives about 90 cent, all of which will go directly to the LauraLynn foundation. It is also available across all digital streaming platforms however, this only raises 1 cent for the organisation.
Please help to spread some festive cheer to children in need by buying the track and helping this amazing cause.