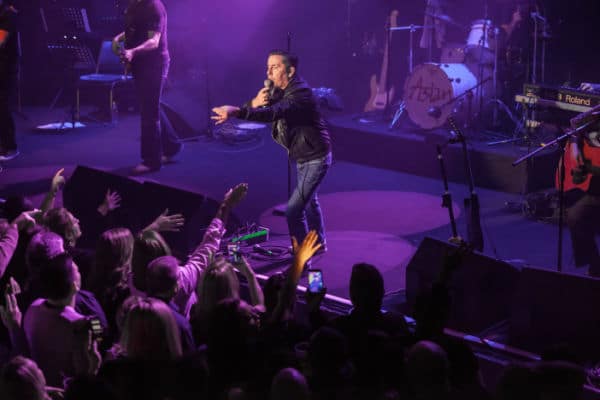 Would you like to listen to the article instead of reading it?
Christy Dignam's daughter Keira has spoken out for the first time since the announcement that the singer was placed in palliative care.
Aslan frontman Dignam who has been battling a rare blood disorder since 2013, was placed in palliative care earlier this week, in what has been a turbulent year for him.
A statement was released, confirming that Christy was being cared for "lovingly by family", and a hospital care team.
They said, "Christy & Kathryn Dignam and their family, daughter Kiera, son in law Darren, and grandchildren, are sharing an update on Christy's health, in response to the large number of media enquiries received".
"In July 2022, Christy was admitted to Beaumont Hospital and spent the next six months in the care of the Haematology and Cardiac Care team", they continued.
"The Dignam family thanks everyone for keeping Christy in their thoughts and prayers and asks for privacy at this time".
Last July, he was rushed to hospital and cared for by the Haematology and Cardiac Care Team at Beaumont Hospital.
Dignam's health setback saw Aslan cancel their 40th anniversary show in Dublin.
"boost"
Following this, Christy Dignam's Keira has released a statement of her own, where she thanked the public for their kind and supportive messages at this difficult time.
She said that these messages have given her father a "boost".
"My Dad just asked me to thank everyone for their support, well wishes and kind words over the last couple of days", Keira said. "It has been and will be tough but it's really given him a boost so thank you all!".
Showing their support for Christy Dignam, fans were quick to show their support for the singer.
"Thinking of you all at this tough time sending love", one fan wrote.
Another added, "Christy, you're a legend, you're the nations hero, admired & loved by all. Thinking about you all Kiera".
Other messages also included, "He has brought happiness and good times to so many people, a true Irish legend, sending love to you all".