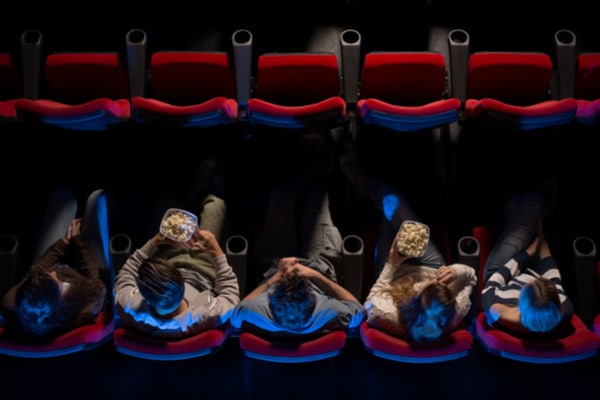 According to a new report, the Irish are still mad about taking a trip to the cinema, and find the experience quite satisfying.
Ireland has the highest per capita visits to the cinema in the European Union at 3.4 compared to the EU average of 1.7! Irish people will travel 9.2 kilometres on average to see a movie on the big screen and spend €16.81 while there.
Wide Eye Media launched FAME, the Film Audience Measurement and Evaluation research, an in-depth look at Irish cinema goers in Movies@Dundrum on Wednesday, May 16th which involved a survey of almost 1,700 cinema goers across the Republic of Ireland, to examine their cinema habits, attitudes and motivations.
69% of respondents agreed that there is no better place to watch films than the cinema!
Moreover, the frequency of attending the cinema is quite high, with 45% of respondents having been to the cinema in the past six months and were heavy cinema goers, going at least once a month. A massive 69% of respondents agreed that there is no better place to watch films than the cinema. While 75% of heavy online streamers agreed that seeing a film in a movie theatre gives you a unique experience that online streaming services cannot match.
Eoin Wrixon, CEO of Wide Eye Media said: "Although we are devoted to devices, bigger is better when it comes to our screens. As our world becomes more and more digital, there is a growing trend, especially among those with children, towards placing value on experiences rather than material things. The cinema experience is universally cherished. Everyone remembers their first trip to the movies."
The research also produced little snippets such as the suggestion millennial men most likely to go to the cinema with friends while millennial women are most likely to go on a date!
Ads and trailers are an important part of the cinema experience too which was quite surprising, as it revealed that most people pay closer attention to ads while in the cinema more so than if they were at home.
As cinema captivates audiences like no other medium, it is one of the best places to engage with brands. The trip to the cinema makes people feel happy, excited, attentive and significantly less distracted, tired, bored and frustrated. Respondents agreed they were 52% more engaged, 75% more attentive and 283% happier when sitting in the cinema as opposed to watching TV.
Eoin Wrixon, CEO of Wide Eye Media, further stated: "The FAME research demonstrates once again how the ads shown before the movie are an essential part of the cinema experience, inseparable from the excitement and anticipation of the film itself. In the cinema environment, brands have the opportunity to become fused to the collective consciousness in ways that are not possible anywhere else."