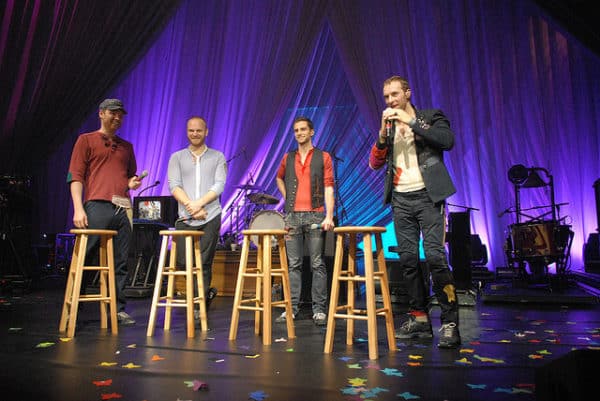 Coldplay opened last night's Brit Awards ceremony, by performing their new single "Higher Power". The band performed this hit on a pontoon by the Thames. You can check out that performance from the band below.
This performance took place on a specially constructed riverboat by the Thames, overlooking the O2 Arena where the ceremony took place.
The band's live edition which was led by frontman Chris Martin included dancing holograms and fireworks.
The band also sang this new track on American Idol recently. Check that performance out and Nova's report here.
Higher Power
Coldplay have also shared "Higher Power's" official music video. In the video, Chris Martin and co are performing on a stack of shipping containers. Holograms of aliens dancing around the band can also be seen in this clip.
Check it out for yourselves here.
The track itself was released on May 7. On the single, the band had this to say.
"Higher Power is a song that arrived on a little keyboard and a bathroom sink at the start of 2020. It was produced by Max Martin who is a true wonder of the universe. It's out on Friday 7 May. Love c, g, w & j". 
The band first permiered "Higher Power" with a very special link up to the International Space Station.
Last week, Coldplay announced the track would get it's first play on an "extraterrestrial transmission" to ESA Astronaut Thomas Prequet. Check out Nova's report for more.
It was also reported thet Coldplay are to perform at a live streamed event at Worthy Farm. The band are set to join the likes of Damon Albarn and HAIM for this virtual gig on May 22.
"We're very pleased to announce that on the May 22, we're going to be streaming an incredible line-up of artists from Worthy Farm", said Glastonbury organiser Emily Eavis.
"We have got incredible bands like Coldplay, Damon Albarn, Haim, IDLES, Michael Kiwanuka, Kano and Jorja Smith and lots of special guests along the way".