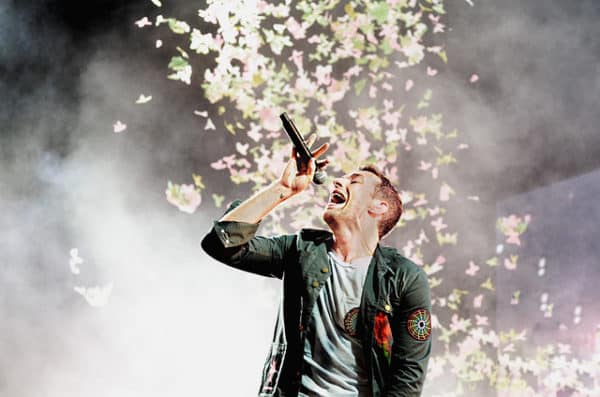 Coldplay performed their new single "Higher Power" on American Idol over the weekend. Check it out for youselves here.
The band delivered this performance on the show over the weekend, surrounded by a dazzling light show and planet-like props.
Coldplay's "Higher Power" Space Station link-up
The single was also officially released on May 7 and it arrived with a special link up to extraterrestrial transmission to ESA Astronaut Thomas Prequet. Prequet is currently on board the ISS.
On the track the band said this, "'Higher Power' is a song that arrived on a little keyboard and a bathroom sink at the start of 2020. It was produced by Max Martin who is a true wonder of the universe". More on that story here.
The band had previously teased fans about this new track after releasing a cryptic message about an Alien Radio project.
You can also catch Chris Martin and co opening up the Brit Awards Ceremony tomorrow (May 11). 
This ceremony will be hosted by Jack Whitehall and will see 4,000 people in attendence as part of the UK'S Events Research Programme.
Coldplay are to also perform at a live streamed event at Glastonbury's Worthy Farm.
Emily Eavis confirmed this news, "We're very pleased to announce that on the May 22, we're going to be streaming an incredible line-up of artists from Worthy Farm".
"We're working with an incredible director called Paul Dugdale.
Emily Eavis added, "We're going to be taking you on a five-hour journey through an evening at Worthy Farm. It's going to be like the festival, but without the people".
"There won't not be one"
In even more exciting news for Coldplay fans, the band have also teased the possibility of a new album.
Last week, Jonny Buckland and Chris Martin said "there won't not be" a new LP on the way.
"We're not supposed to say, but there won't not be one", Martin said.
While Buckland also added, "We've recorded more than one song".