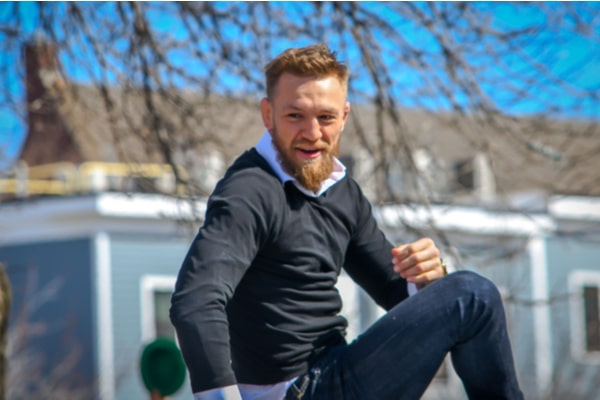 Conor McGregor has said that he would love to explore the idea of taking over Chelsea.
This comes after Russian billionaire Roman Abramovich confirmed he was putting the London football club up for sale ahead of their FA Cup victory over Luton Town last night.
Roman Abramovich is one of many high profile businessmen that were told they could face further sanctions in the UK following Russia's invasion of Ukraine last week.
Mr Abramovich had also handed over "stewardship" of the club last week.
"Let's buy it"
Following reports that several offers to buy the club could be on the table, one such bid could emanate from one certain MMA fighter from Dublin. Cue Conor McGregor.
"Chelsea for sale, £3bn. Let's buy it!", the Notorious posted in an unnamed WhattsApp group.
McGregor then tweeted, "I wish to explore this".
I wish to explore this. @ChelseaFC pic.twitter.com/ABEjjCqhD7

— Conor McGregor (@TheNotoriousMMA) March 2, 2022
Along with being known as one of the top UFC stars worldwide, Conor McGregor is also responsible for four of the top five biggest selling pay-per-view events in the promotion's history.
This UFC career also saw McGregor land featherweight and lightweight titles.
Conor McGregor has earned his wealth both inside and outside the Octagon.
His professional boxing debut against Floyd Mayweather earned him $100million, while he also accrued a healthy profit from the sale of his Whiskey brand for €100million in 2021.
Last year also saw McGregor purchase the Marble Arch Pub in Drimnagh, county Dublin. This is also the same pub that the UFC star pleaded guilty for assaulting 50 year old Des Keogh in 2019.
Mr McGregor had been fined €1,000 by Dublin District Court, and issued an apology.
Not For The First Time
Despite being celebrated as the richest athlete by Forbes magazine in 2021, it is fair to say that Conor McGregor's valuation of €160 million is not close to Roman Abramovich's valuation.
This alleged interest in purchasing Chelsea is not the first high profile football club that Conor McGregor has expressed an interest in buying.
Last April, The Notorious appeared to express an interest in purchasing Manchester United!
This rumour began when Man United Chief Executive Ed Woodward resigned following the spectacular collapse of this European Super League. More on this here.