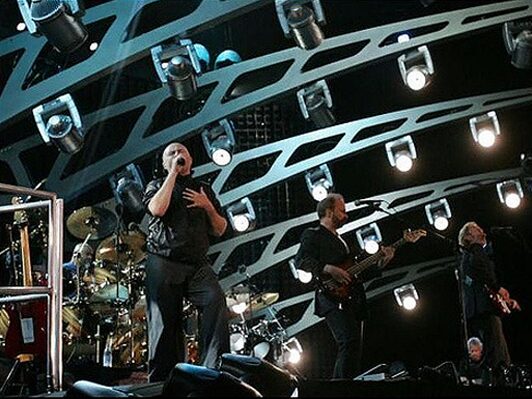 The English band last played together on the Play It Again tour to mark their 40th anniversary.
Now, with their 50th anniversary approaching there's a possibility they could hit the road again to mark it. Former band members Phil Collins and Mike Rutherford have both hinted that there's a possibility Genesis could reform later this year.
Collins famously initially started out as the drummer of the classic band. He reluctantly hung up his drum sticks when front man Peter Gabriel left following their The Lamb Lies Down on Broadway in 1975.
The band now consists of primary members Rutherford, Phil Collins and Tony Banks who last played together in 2007 performing a string of dates on their Play It Again tour.
Following that anniversary tour it didn't seem likely that any future tours would take place. But now with Collins coming out of retirement to return to solo duties, there is new speculation that he may join up with Rutherford and Banks for another tour.
Collins himself said back in October that "anything can happen" in regards to the possibility of a reunion.
Them, speaking to The Daily Mirror, Rutherford echoed Collins' openness to the prospect of a reunion,
"I do appreciate the fact that we're all very good friends, which is nice, especially the three of us. Who knows?"
It's evident that they are still friends like Rutherford said as he will of course be supporting Collins this Summer. Phil Collins will play his Irish concert Sunday 25thJune, at the Aviva Stadium. Along with support from Rutherford –  with his band Mike and the Mechanics – Blondie will also be supporting him . What a great line up!
Watch this space! Who knows what will happen after Collins' tour!
Picture Credit: G.M.Belli