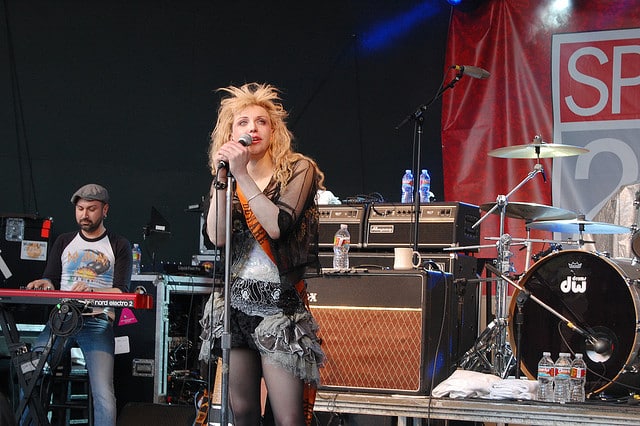 If you're a die hard Kurt Cobain fan, you probably won't enjoy hearing about how his widow squandered upwards of €20 million of 'Nirvana money' following the singer's death.
Courtney has a well documented past of money issues and financial troubles. The hole singer has revealed to an Australian magazine Sunday Style, the full extent of her losses.
While on tour in Australia, she did an interview disclosing the insane spending. "I lost about $29 million — I know that's a lifetime of money to most people, but I'm a big girl, it's rock 'n' roll, it's Nirvana money, I had to let it go," she said.
According to Love, most of the money was spent on settling various lawsuits. After burning through so much cash, she commented on her current financial state, she said, "I make enough to live on, I'm financially solvent, I focus on what I make now."
The Nirvana widow has also had a trouble with drug addiction. She told Sunday style that, she is still embroiled in various legal cases that stem from her use of prescription drugs. Love explained that while under the influence, she would often go on tweeting tirades. Love would then wake up the next morning and find herself in legal difficulties for her provocative tweets.
really? look closer? check it out @DR24#MH370 and its like a mile away Pulau Perak, where they "last" tracked it pic.twitter.com/tqavAe4zIL

— Courtney Love Cobain (@Courtney) March 17, 2014
Courtney's tweets are generally ridiculed, her MH370 theory, was replied to by Complex magazine taking the piss with this Loch Ness tweet.
Courtney Love found the Loch Ness Monster: http://t.co/R6TbWSPwTi pic.twitter.com/XvW0ObN0oM

— Complex (@ComplexMag) March 19, 2014
Love is currently co-producing a Kurt Cobain Biopic, expected to start filming in the next 12 months. She will also be guest starring in the motorcycle gang television series 'Sons of Anarchy'.