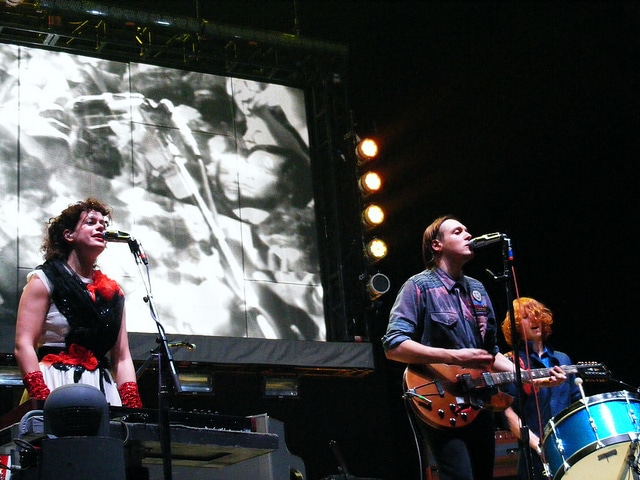 Arcade Fire are keeping up their tradition of covering local musicians from the city they're playing in.
The other night, during a concert in the Pacific Northwest of America, in Washington State, the Montreal rockers covered Nirvana's most famous anthem 'Smells Like Teen Spirit'.
It's a continuation of what seems like a ritual, on the Reflektor tour. So far on their world tour, Arcade fire have covered, Echo and the Bunnymen in Liverpool, Creedence Clearwater Revival's 'Hey Tonight' in California, the Canadian group were joined on stage by Blondie to play the track 'Heart of Glass' and in Dublin's Marlay Park they played Sinead O'Connor's 'Nothing Compares 2 U'.
Previously frontman, Win Butler, discussed with Sterogum, Nirvana's influence on Arcade Fire. After the release of their 2010 LP The Suburbs, the group found themselves thinking about In Utero:
"Imagine Nirvana having the biggest record in the world and spending nine days and coming back with this super-raw album with pretty acoustic songs and crazy metal songs, I don't know, just artistically In Utero was a constant source of inspiration. It stands the test of time so well, and "All Apologies" is one of the most beautiful songs ever written, I think."
Arcade fire played parts of 'Smells Like Teen Spirit' during the beginning and the ending of their Suburbs track 'Rococo'. During the outro of Rococo, Butler mixed in the lyrics, "I feel stupid and contagious. Here we are now, entertain us." Check out the video below.
Butler also spoke about the first time he heard Nevermind in 1991:
"All the sudden the whole kind of social dynamic at my junior high changed where these kind of misfit kids who maybe come from a broken home and they're smoking cigarettes in the back and they didn't have money for nice clothes, all the sudden those kids socially were in a weird way on the same level as everyone else. I was sort of like a weird kid who didn't know where I fit in or whatever and just to have that kind of voice be that big in culture, I feel like that was a magical period of alternative music where we had Jane's Addiction and R.E.M. and Nirvana, it was like seeing these kind of freaks from all the different cities of North America and you're like, oh wow."