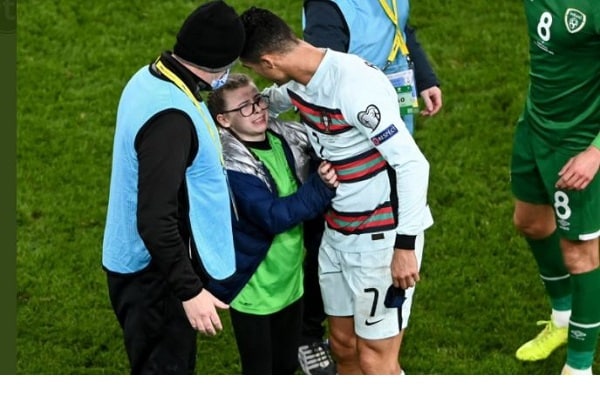 He may have been slightly frustrated with the final score in his country's clash with Rep of Ireland last night. However, Cristiano Ronaldo showed his class and brought a young Irish fan to tears in the process by handing her his jersey at the final whistle.
The young fan, Addison Whelan also plays for Shelbourne's Under 13 side. She was understandably moved to tears with this gesture.
The match itself was described as a "damp squip" by RTE pundit Liam Brady. It saw Ireland have a Matt Doherty goal somewhat harshly ruled out for an alleged foul on Portugal's keeper Rui Patricio in the build up. It also saw Ronaldo miss a presentable opportunity to add to his remarkable goal tally.
"Classy gesture" by Ronaldo
At the final whistle and after spending most of the 90 minutes being booed by the Irish fans, Ronaldo showed his class by giving his jersey to the stunned young Irish fan.
Taking to Twitter, her football club Shelbourne reacted to this classy gesture.
Shelbourne U13 player Addison Whelan gets Ronaldo's jersey 😍#RedsTogether | #Since1895 pic.twitter.com/YgOp9f4ihF

— Shelbourne FC (@shelsfc) November 11, 2021
"What a legend"
As you could imagine, this prompted quite the reaction online, with many people heaping the praise on Ronaldo for a classy gesture.
"Class moment and people accuse ronaldo of being arrogant and having a huge ego. Showing here what real legends do", one fan wrote.
"Class act that from Ronaldo giving that wee girl his jersey", added another.
Another fan added, "What a legend. So is Ronaldo".
Back in September, it also emerged that Cristiano Ronaldo and his family swapped mansions when they arrived in Manchester after some bleating sheep were keeping him awake at night!
More on that story here.
Pundits Post Match Clash
Following last night's clash and the Ronaldo gesture, RTE pundits Liam Brady and Richie Sadlier clashed over whether or not Rep of Ireland manager Stephen Kenny should be awarded a new contract.
Sadlier said that recent results clearly show that the team is heading in the right direction and the former Dundalk manager should be given the chance to lead Ireland into the Euro 2024 qualifying campaign.
"I think we've seen enough from the manager", he said.
"It's a night of positives. They're right within the group to be pleased with how tonight went. And to focus on the positives, and to believe they're going somewhere", Sadlier continued.
"I hope my positivity doesn't sound like it's couached in negativity because the realistic expectations of the squad we have. Given that so many of them are new to international football, has to be factored into any analysis".
However Liam Brady argued that the FAI should wait until after the upcoming Nations League campaign before awarding Kenny a new contract.
"I think he's doing a pretty good job. Whether he's the man to take it forward, nor not, I think we should wait before we make that decision", Brady said. "Why should we make the decision now? He's got another eight months to run on his contract, so why don't we wait?". 
"The FAI have a chance to assess him even further. We've done it too often in the past. We've given out contracts and then it has backfired on us", the former Arsenal and Juventus star added. "I would wait".