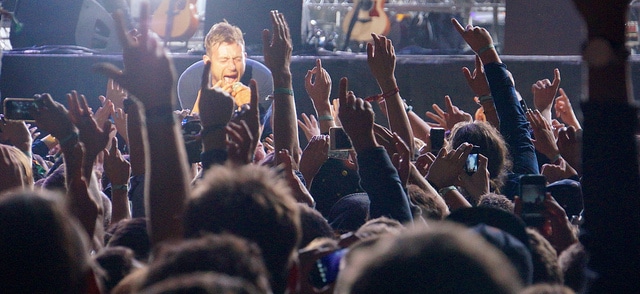 Blur's frontman Damon Albarn has postponed his concert in Sydney, due to the ongoing cafe siege situation.
The show was scheduled to take place tonight Monday 15th December, at the iconic Sydney Opera House.
BBC News reports that a man armed with a shotgun, has been holding staff and customers hostage at a cafe in Sydney city centre for the past 12 hours.
Five people managed to escape from the building, it is unclear how many hostages remain in the cafe.
The Opera house was also evacuated this morning after a suspicious package was found near the Sydney venue. A spokesperson for the Opera house said that reports of a threatening package were unfounded.  Tonight's gig has been cancelled to ease the pressure on public transport networks.
Albarn is currently touring in promotion of his solo album Everyday Robots. The singer was supposed to play two nights at the Opera House but has scheduled both shows for Tuesday 16th.
Damon Albarn wrote on his Facebook: "Due to circumstances beyond our control, tonight's Sydney Opera House performance has been rescheduled to tomorrow, Tuesday 16th Dec at 7:00pm. The original start time of 8:00pm for the Tuesday 16 Dec 2014 performance has been rescheduled to 9:30pm, to accommodate the additional performance."