Dave Grohl confessed that he welled up after he heard Weezer perform a cover of Nirvana's 'Lithium' at Rock in Rio over the weekend.
Grohl opened up about the totes emosh moment last night, Saturday, September 28th while the Foo Fighters' played a headline slot at the Brazilian festival in Rio de Janeiro.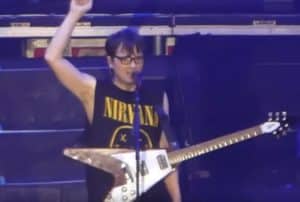 The NME reports that Weezer were on just before Grohl and the Foos and they performed the song lifted from Nirvana's classic album 'Nevermind'.
"We're going to cover a song from Dave Grohl's old band," Rivers Cuomo informed the crowd before launching into 'Lithium'. Grohl told the crowd during the Foos set:
"I was backstage and I heard Weezer play the 'Lithium' song and I've got to be honest, I cried a little bit. I miss playing that song. So this song goes out to Weezer."
The band then launched into 'Big Me'. Check out the clip of Weezer below:
"We're going to cover a song from Dave Grohl's old band." @Weezer played 'Lithium' by @Nirvana at @rockinrio last night right before @FooFighters took to the stage.

Video: @ztubbz pic.twitter.com/DSR51dAJUk

— ill Will (@officialillwill) September 29, 2019