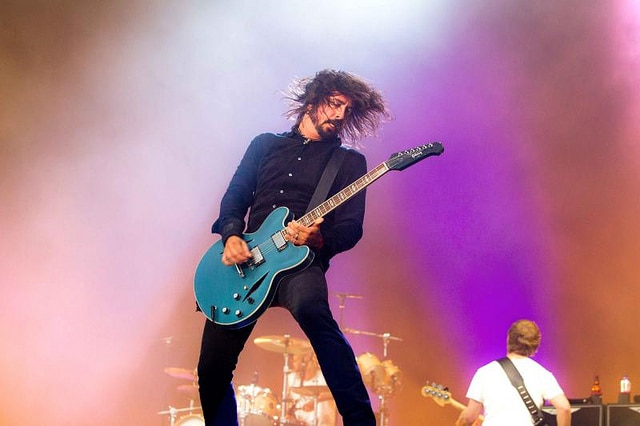 It seems that Dave Grohl isn't letting his broken leg hold him back, after he recently played a guitar solo with his broken leg. On the second night of Foo Fighters' North American tour, Grohl played a solo with his cast.
We've heard of Jimi Hendrix playing a solo with his teeth and countless others playing it behind their back, but it seems that Grohl has taken it to the next level. Playing earlier this week in New Jersey, Dave Grohl was centre stage as he took his guitar and played it with his foot.
In order for Dave Grohl to actually perform on their North America, a throne had to be built to so he could rest his broken leg. Due to Grohl being on countless pain killers, he said he was "high as f**cking kite" when he came up with the idea.
After Dave Grohl performed his cast solo, he asked if he should keep up playing the solo at gigs "That was the first time I've ever done the f**king cast solo. Is that okay?" Grohl then said "Do you like that cast solo? I haven't done that yet. What do you think Camden, should I keep that cast solo?" The crowd appaluded and he then added: "Looks like I'm doing it in Toronto."
Photo Credit: Ben Houdijk