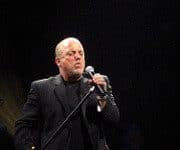 On this day, in 1964, New York band the Echoes recruited a young unknown piano player, Billy Joel.
Joel had learned piano as a child, but it wasn't until he saw The Beatles first appearance on The Ed Sullivan show that he realised he wanted to pursue a career in music. Less than two weeks later he found himself in the Echoes, a band who specialised in covering songs from the British Invasion. The Echoes became popular in the New York circuit, so a then 15 year old Joel quit school to become a full time musician.
He left the Echoes in 1967 and spent the following years grafting in different bands and even left music for a time.
He returned in 1971, refashioning himself as a singer-songwriter for his debut single album Cold Spring Harbour. A mastering error led to it being played at the wrong speed which resulted in hit songs "She's Got a Way" and "Everybody Loves You Now" being overlooked until his live album in 1981 and the remastered version of the album in 1983.
After the release of Cold Spring Harbour, the native New Yorker and his then wife moved to LA. It was during this time Joel developed the name Bill Martin and became a lounge pianist. His time as Bill Martin is immortalised in his hit song "Piano Man". After gaining attention from radio stations and record labels his song "Piano Man" made its way up the charts, peaking at number 27.
He went on to achieve massive success. He had a string of smash hits such as; "Uptown Girl", "The Longest Time" and "Tell Her about It". He released two Greatest Hits and became the first American to perform a full scale rock show in the Soviet Union.
In 1989, after releasing hit single "We Didn't Start the Fire", Joel was presented with the Grammy Legend Award. Ten years later, his record sales surpassed the 100 million mark and in late 1999, Joel was inducted into the Rock and Roll Hall of Fame.
Though semi-retired in terms of recording new pop songs, Joel has continued to tour and branch out as an artist. In 2013, his residency in Madison Square Garden was announced. This unprecedented and wildly successful residency has led to 36 sold-out shows through December 2016.
Picture Credit: Samira Khan