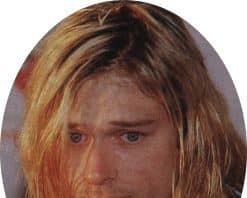 On this day, in 1967- Nirvana front man, Kurt Cobain was born in Aberdeen, Washington. Today would have marked the late music icon's 50th birthday.
According to Cobain's family, he became interested in music from a young age. He started singing age two and playing piano age four; even writing a song about his trip to the park.  Growing up Cobain listened to The Beatles, Electric Light Orchestra, The Ramones and The Monkees.
Cobain formed Nirvana with friend and bassist Krist Novoselic. They released their first single in 1988, a cover of 'Love Buzz', on Seattle indie label Sub Pop.
In September 1990, Cobain and Novoselic were introduced to Dave Grohl. Novoselic stated "We knew in two minutes that he was the right drummer".  Nirvana hit mainstream success in 1992 after the release of sophomore album Nevermind. After single "Smells like teen spirit" was released, the band blew up worldwide. Nevermind would go on to sell 7 million copies in the US and 30 million copies worldwide. In Utero Nirvana's third studio album was released on 21st September 1993. Cobain struggled with the massive success of Nirvana at this time.
Cobain met his wife Courtney Love in 1990, the two became inseparable and bonded over their drug use. The pair married on 24th February 1992. On 18th August 1992, Love gave birth to their daughter Francis Bean Cobain.
Cobain's now 24-year old daughter, who was not even two years old when he died, posted a tribute to her father today. She penned a note that said "Today would have been your 50th Birthday. You are loved and you are missed. Thank you for giving me the gift of life. Forever your daughter, Frances Bean Cobain".
.
Picture Credit: Carlos Andres Restrepo Vergara