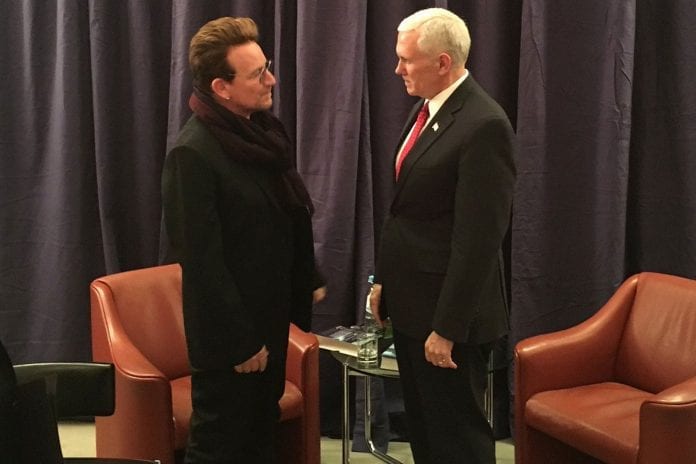 Patron Saint of everything ever, our very own Bono, has met with US Vice President Mike Pence. The two were both in Germany over the weekend to attend the Munich Security Conference.
The two met briefly and Bono thanked Mike Pence for his work in getting the President's Emergency Plan for AIDS Relief (PEPFAR) passed in 2003 and then renewed in 2008.
"Twice on the House floor you defended that. That's how we know you, and we really appreciate that," Bono told Pence, who responded to Bono saying, "It was an extraordinary historic accomplishment and you played a leading role in carrying it forward."
The cordial conversation has kicked off a flurry of tweets and complaints online against the meeting. Many of the tweets pointing out that it was under Pence's tenure as Senator in Indiana that he supposedly caused a HIV epidemic. This was due to his closure of numerous Planned Parenthoods which was was one of the few places in some parts of Indiana that offered HIV testing. He eventually approved a bill for needle exchanges which led to a reduction in the number of HIV cases.
However the two both seemed pretty happy to be in each other's company as Pence stated "I appreciate the chance to get together for you for a minute," Pence told Bono. "I heard you were in town."
"You're the second busiest man on earth!" Bono cracked. Oh the banter.
Bono has been a long-time advocate for the eradication of  the global HIV/AIDS epidemic for nearly two decades now — co-forming Product Red, which partners with big brands (Nike, Gap, Coca-Cola, Starbucks, Beats by Dre, etc.) to help raise money for charities fighting the disease. He also co-founded the ONE Campaign which aims to eradicate poverty and HIV/AIDS in Africa.
Photo Cred: Mike Pence Twitter