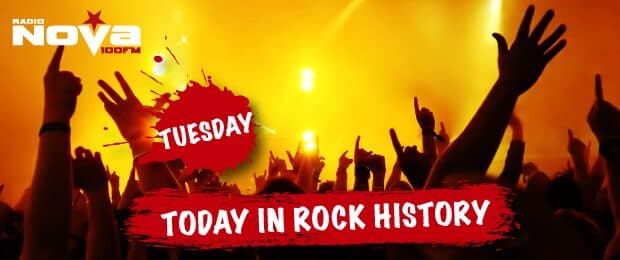 It's important to know your rock history, here at Radio NOVA we bring you ten rock stories from the sixties, seventies, eighties, nineties and the noughties.
On this day in rock history: December 2nd.
1967: The Monkees album Pisces, Aquarius, Capricorn and Jones Ltd, went to number one on the US album chart. It was their fourth album to sell over a million copies.
1969: Cindy Birdsong of the Supremes was kidnapped at knife-point by a maintenance man who worked in the building she lived in. She later escaped unharmed by jumping out of his car on the San Diego freeway. The kidnapper was arrested in Las Vegas four days later.
1976: Pink Floyd began the first day of their photo shoot for the forthcoming Animals album cover. The pictures were shot at Battersea Power Station in London, with a giant inflatable pig between two tall towers.
1978: Rod Stewart went to number one on the singles chart with the song 'Da Ya Think I'm Sexy', it was the singer's fifth number one.
1982: US folk singer David Blue died of a heart attack aged 41 while jogging in New York's Washington Square Park. He was a member of Bob Dylan's Rolling Thunder Revue during the late 70's. He wrote 'Outlaw Man' covered by The Eagles on their 1973 Desperado album.
1983: MTV aired the full 14-minute version of Michael Jackson's 'Thriller' video for the first time.
1999: David Bowie played his first UK show in over two years when he appeared at the Astoria Theatre in London for 2,000 fans.
2002: Oasis' singer Liam Gallagher was charged with assault after he Kung-Fu kicked a police officer. The incident happened in a Munich hotel, the singer lost his two front teeth in the brawl.
2003: Darkness singer Justin Hawkins was held for two hours at New York's JFK Airport, after police mistook him for a wanted man with the same name and looks.
2007: Sharon and Ozzy Osbourne made more than €645,000 for charity after they sold off some of their possessions from their former American home. Items sold included the family's custom pool table for €9000 and a pair of Ozzy's trademark round glasses went for €4000. The beaded wire model of the Eiffel Tower that adorned the kitchen fetched €8,000, while skull-adorned trainers worn by Ozzy sold for €2000.