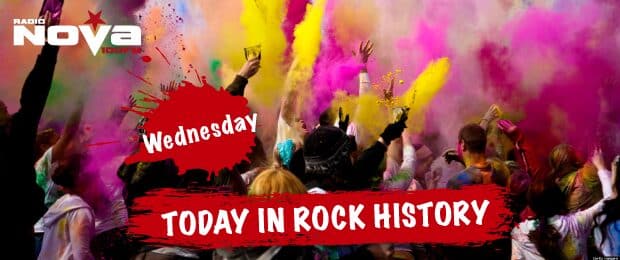 It's important to know your rock history, here at Radio NOVA we bring you ten rock stories from the sixties, seventies, eighties, nineties and the noughties.
On this day in rock history: November 26th.
1967: A promotional video for the Beatles' single Hello Goodbye,' airs on the 'Ed Sullivan Show'. It was never shown at the time in the UK due to a musician's union ban on miming.
1968: Cream played their farewell concert at the Royal Albert Hall, London.
1973: The New York Dolls make their live debut at Biba's Rainbow Room in London, a club situated on the top floor of a trendy fashion store.
1973: John Rostill former bassist with The Shadows died after being electrocuted at his home recording studio.
1976: The Sex Pistols released the single 'Anarchy In The UK'.
1988: Russian astronauts play the Pink Floyd album Delicate Sound Of Thunder, making the Floyd the first rock band to be played in space. David Gilmour and Nick Mason both attended the launch of the spacecraft.
1994: The Eagles started a two-week run at number 1 on the US album chart with Hell Freezes Over.
2000: Manchester club the Hacienda was auctioned off raising £18,000 for charity. Madonna made her UK TV debut at the club when C4 music show The Tube was broadcast live from the venue. Oasis, Happy Mondays, U2, New Order, Stone Roses, The Smiths and James all played at the club.
2002: Actor and major Elvis fan Nicholas Cage divorces Lisa Marie Presley after less than four months, citing "irreconcilable differences."
2008: The parents of missing Manic Street Preachers guitarist and lyricist Richey Edwards were granted a court order for him to be declared presumed dead, after he disappeared nearly 14 years ago.