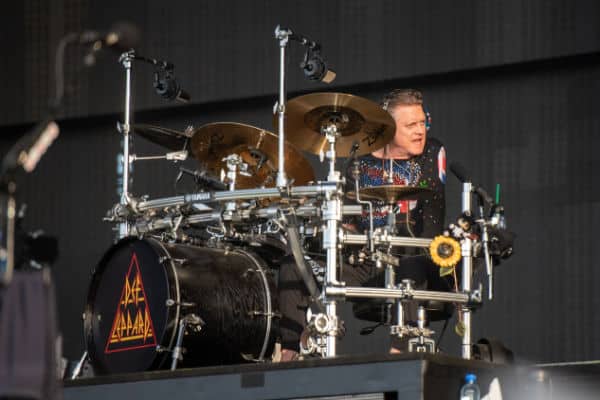 Def Leppard drummer Rick Allen was reportedly assaulted outside his Fort Lauderdale Hotel earlier this week.
According to reports, this incident took place after Allen had stepped outside the hotel to have a ciggarette in the front driveway area of the Four Seasons hotel.
The alleged culprit 19 year old Ohio resident Max Edward Hartley, reportedly ran at Allen "knocking him backwards".
The report also added, that "as a result of (Hartley's) actions, (Allen) hits his head on the ground causing injury". 
Allen To Press Charges
Following this, a woman who was also struck by Hartley, ran out of the hotel to help Rick Allen. She then tried to run back into the hotel, only to be pulled back outside after her hair got caught in the door.
Mr Hartley was arrested while damaging cars in a nearby parking garage. He was later charged with four counts of criminal mischief, two counts of battery, along with abusing an elderly or disabled adult.
Rick Allen has released a sworn statement, indicating his intentions to press charges.
Def Leppard who are in the midst of their live world tour with Motley Crue, have also issued a police statement on the matter.
Earlier this week, Def Leppard announced the release of a new video series, documenting that world tour with Motley Crue.
The new series, 'Behind The World Tour', will provide behind the scenes footage of the band at this tour, promoting their album 'Diamond Star Halos'.
The first two episodes have already been shared, and they show the band taking to the stage at venues across Mexico and more. Check that out here.
When confirmed the news of this world tour, Def Leppard's Joe Eliot released this statement.
"After finally getting back on the road and having a monumental summer tour in the US & Canada this year, we're beyond thrilled to be bringing this massive stadium tour to major cities all over the world, and kicking off Europe in Sheffield where it all started for us 45 years ago. We're looking to forward to seeing you out there, somewhere soon!", he said.