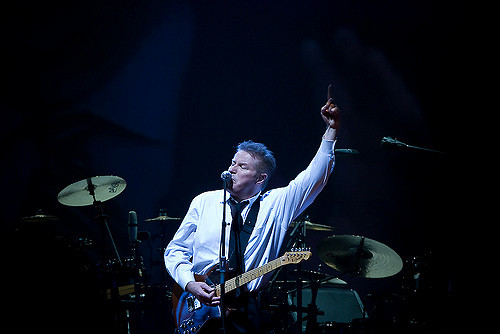 Don Henley has suggested that an Eagles reunion could happen in the future.
He had previously said a reunion was merely impossible following the death of his fellow band member Glenn Frey.
But he now believes a reunion could be made possible with the help of Frey's son.
He told the Montreal Gazette, "At some point in the future, we might work our way around to that. You know, Glenn has a son who can sing and play quite well. And one of the only things that would make sense to me is if it were his son. With Jackson, of course, we could do Take It Easy and a couple other things, but the only way I would consider any kind of reunion, I think, would be with Glenn's son, Deacon".
He did however confirm that no plans have been made or even discussed as the group are still going through the "healing process".
He also spoke of the emotion attached to performing without Frey, "It gets emotional at the end when I do Desperado, because that's the first song that Glenn and I wrote together. So every night I dedicate it to him. And the crowd gets emotional, and that's part of the healing process — for them as well as for me. I think they expect it. I won't sing any of his songs though. I don't think that would be quite right, even if I co-wrote them. I'm just not doing it".
The Eagles will receive a Kennedy Center Honor on December 4th in Washington, D.C.
Photo Credit: Steve Alexander