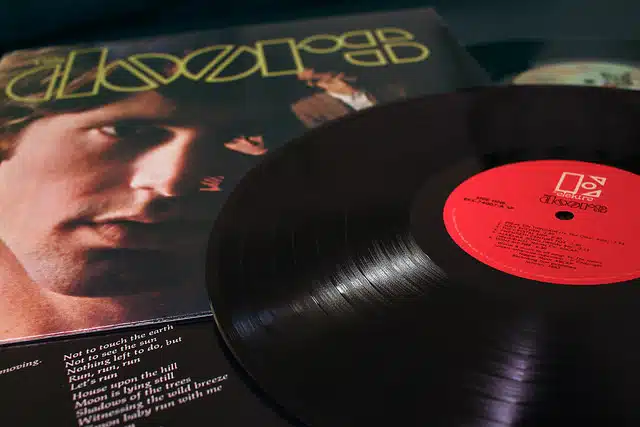 The Doors is the self-titled debut album by The Doors and was released on Janurary 4th 1964. It is seen as one of the great rock debuts and as really putting The Doors on the map.
A tremendous debut album, and indeed one of the best first-time outings in rock history, introducing the band's fusion of rock, blues, classical, jazz, and poetry with a knock-out punch. The lean, spidery guitar and organ riffs interweave with a hypnotic menace, providing a seductive backdrop for Jim Morrison's captivating vocals and probing prose.
"Light My Fire" was the cut that topped the charts and established the group as stars, but most of the rest of the album is just as impressive, including some of their best songs: the propulsive "Break on Through" (their first single), the beguiling Oriental mystery of "The Crystal Ship," the mysterious 'End of the Night', 'Take It as It Comes' (one of several tunes besides 'Light My Fire' that also had hit potential).
There is also the stomping rock of 'Soul Kitchen' and 'Twentieth Century Fox'. Then what a better to end the album then the 11-minute Oedipal drama 'The End' was the group at its most daring and, some would contend, overambitious. It was nonetheless a haunting cap to an album whose nonstop melodicism and dynamic tension would never be equalled by the group again, let alone bettered.
Tracklist:
1. Break on Through (To The Other Side)
2. Soul Kitchen
3. The Crystal Ship
4. Twentieth Century Fox
5. Alabama Song (Whiskey Bar)
6. Light My Fire
7. Back Door Man
8. I Looked At You
9. End If The Night
10. Take It as It Comes
11. The End
Photo Credit: Cam Miller