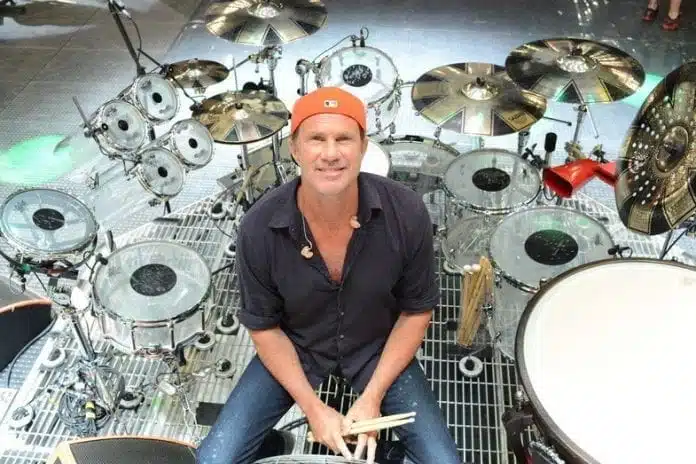 Red Hot Chili Peppers' drummer Chad Smith has been living out his musical dreams, playing at the former rehearsal studio of Led Zeppelin.
Smith was joined by Queen's drummer Roger Taylor and session musician Andy Gangadeen, to perform at Headly Grange, as part of a making-of-project.
Headly Grange was a famous rehearsal studio in the sixties and seventies. Acts such as Led Zeppelin, Fleetwood Mac, Genesis, Ian Dury and Peter Frampton all recorded at the Grange.
Zeppelin recorded chunks of Led Zeppelin III, IV, Houses of the Holy and Physical Graffiti at the studio. Speaking about the venue guitarist Jimmy Page said: "Headley Grange was somewhat rundown, the heating didn't work. But it had one major advantage. Other bands had rehearsed there and hadn't had nay complaints. That's a major issue, because you don't want to go somewhere and start locking into the work process and then have to pull out."
Smith told Music Radar: "Some fantasy things are attainable one way or another. Let's say you want to record at Electric Lady, which I'd still love to do, well, if you have the money, you can record there. And on and on down the line. But for years and years, recording at Headley Grange just wasn't on the table – they closed the place down to people in 1975. So I didn't think about it. Then all of sudden, it was like, 'Oh, my God, you mean I can?'"
"For drummers and other musicians, they're getting a really creative and useful music tool, and for Roger, Andy and myself, we were able to step back into history in a way we never would have dreamed. Everybody wins."
The drummer chatted about listening to Zeppelin when he was younger and the myth of the Grange. "I scoured album covers. You've have the inner sleeves or the fold-outs with all the pictures and information, cool pictures. I would see Headley Grange listed, and I'd be like, 'Wow, what is this place? Headley Grange, it must be amazing.' You're a teenager and this stuff seems so mythic."
"You could not get into Headley Grange. It's been a private residence for a long, long time, and they stopped opening it up to bands after Led Zeppelin did Physical Graffiti there. So that builds up the myth. Even if you had the dough, you couldn't do it.
"To me, that's what makes this so special, in addition to what you said, that there's just something about the place. And certainly, when you talk about drums and drumming, it's most iconic – that's where John Bonham recorded When The Levee Breaks. As Roger Taylor says, 'That's the benchmark.' I'm still pinching myself – I'm the first guy to record at Headley Grange since Bonham. I'm glad the owners told me that after I did it!"
"I flew over from LA, and I was so excited the night before – I couldn't sleep. I mean, Zeppelin is my favorite band, and Bonham is my favorite drummer. Those are my favorite records, basically."