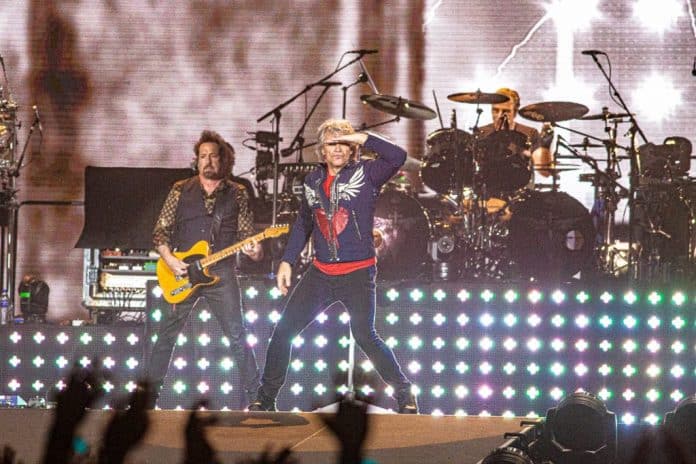 Bon Jovi play the R.D.S, Dublin on Saturday 15 and Sunday 16 June with special guests Manic Street Preachers and with extra tickets for both dates on sale now, MCD Productions invited us to join near 40,000 others to see the band's sold out show in Stockholm.
The gig at Tele2 Arena was the band's first in 6 years in Sweden's capital and despite reports of complaints about noise problems, what we witnessed was a band still in good form that can bang out the hits.
This tour places the spotlight firmly on the music and the songs, the body of work that has propelled Bon Jovi to over 130 million record sales. The band is ready every night with a choice of around 95 songs that they can change up every night, but have also been playing their all time classics like "You Give Love A Bad Name", "It's My Life", "Wanted Dead Or Alive", "Bad Medicine", "Who Says You Can't Go Home", "Keep the Faith", "Always", "Have A Nice Day" and of course, "Livin' On A Prayer."
Pictures by Nils Carmel
Continuing a world tour that has visited the USA, Canada, Brazil, Argentina, Chile, Japan and Australia, the This House Is Not For Sale European Tour sees lead singer Jon joined on stage by guitarist, co-producer and co-songwriter John Shanks who told us how the tour has been going and hinted at the band making new music:
Multi-instrumentalist Everett Bradley told us how long her has been working with Bon Jovi:
Something of a spiritual home for the band in Ireland, Bon Jovi sold out two consecutive nights at the R.D.S. in June 2011 and played there 3 times before that. This will be their first Irish show since 2013 when the band played at Slane Castle. Lead guitarist Phil X, who joined the band on that tour, recalls Ireland well:
"Those huge shows, tens of thousands of people all together as one, that's what we do," says Jon Bon Jovi.
"WE'VE BECOME A NEW, REJUVENATED BON JOVI. A REFRESHED LINE UP THAT KILLS EVERY NIGHT. WE SOUND BETTER THAN EVER AND WE'RE ENJOYING EVERY MINUTE. WE ARE OUT THERE AS A BAND, FEEDING OFF EACH OTHER AND THE FANS, HAVING THE TIME OF OUR LIVES ALL OVER AGAIN."
Over an illustrious career spanning more than three decades since their formation in 1983, Bon Jovi has earned their place among global rock royalty. With over 130 million albums sold worldwide, an extensive catalog of hit anthems, and more than 2,800 concerts performed in 50 countries for more than 35 million fans, Bon Jovi is the consummate rock and roll band. In April 2018, after a public poll that saw the band attract over 1 million votes from fans, Bon Jovi were inducted into the Rock and Roll Hall Of Fame.
Prior to 2013's "Because We Can" world tour securing the highest grossing tour of the year, Bon Jovi earned the No. 1 grossing worldwide tour in 2010 for "The Circle Tour," which grossed $201 million total, and 2008's "Lost Highway" tour, which grossed $210.6 million.
Rob Hallet has worked with for a host of A-list artists, including Leonard Cohen, Jennifer Lopez, Justin Bieber, Usher and Black Eyed Peas, as well as Prince's 21-night run of shows at London's 20,000-capacity the O2 arena in 2007. He has worked with Bon Jovi for over a decade and is the promoter on the This House Is Not For Sale European Tour:
Tickets on sale from Ticketmaster:
In person: From Ticketmaster Outlets Nationwide
By Telephone (24 Hour): ROI: 0818 719 300, Northern Ireland: 0844 277 4455
Book On Line: www.ticketmaster.ie