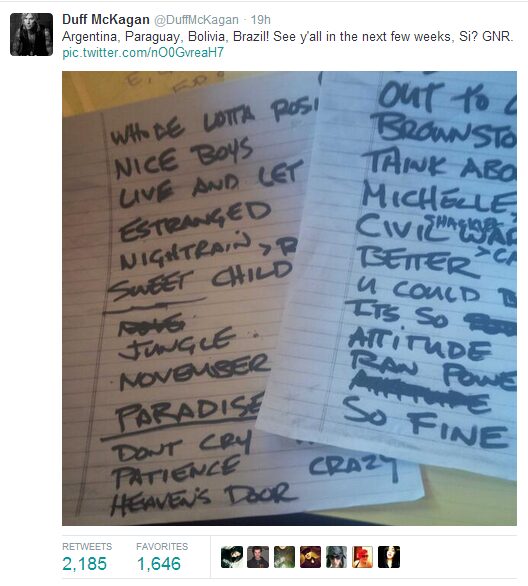 The ex Guns N Roses Guitarist has hinted that he may be on his way back to Guns N Roses via his Twitter account yesterday, 31st March. Mc Kagan left the band in 1997 and left singer Axl Rose as the only remaining founding member of the band following un-resolvable disputes with the other members. So bad were the disputes that Slash says that he can never see a return to Guns N Roses.
However Mc Kagan did rejoin the band for a guest appearance back in 2010 but he is said to have regretted it due to rumours of a reunion with the band.
Guns N Roses are due to embark on their South American tour and it looks very plausible that McKagan will be joining them from the tweet he sent out saying:
"Argentina, Paraguay, Bolivia, Brazil! See y'all in the next few weeks, Si? GNR."
The tweet also had an image attached showing a piece of paper which looked like a set list of GNR songs.
Can this be any more obvious. See the image and tweet below.